Three or four years from now, we'll look back at this 2022-2024 period as a pivotal period in the bicycle industry.
Many international brands have been bankrupted or bought out while many Taiwan manufacturers are doing it tough. For the first time ever, many are experiencing cash flow problems as the international glut of bicycle components is only slowly being sold down.
Some manufacturers are resigned to waiting for the end of next year when they expect the market to return to some sort of normalcy.

Most have deep pockets, so it will be alright in the end. All are saying that they've never seen anything like this before, and probably won't ever again.
In the meantime, e-bike design and innovation continues moving inexorably into an exciting future . . .
Contents
How Green is An E-bike . . . really?

E-bikes have long been touted as an answer to the carbon emissions from internal combustion engine vehicles, a claim which overlooks the energy source—a fossil-fuel power grid with minimal renewable input.
Removing emissions from the immediate environment and concentrating them around a power station raises the quality of life in that environment. However, is the contribution to net greenhouse gas emissions more or less the same?
The Union of Concerned Scientists have come up with some numbers and a strong argument that deliver a definitive "no" in answer to that.
This chart lets you makes comparisons across all USA states and adjust the input of number of miles traveled to calculate average emissions of e-bikes vs EVs vs conventional vehicles.
From Batteries to Capacitors

Batteries are one of the pillars upon which the e-bike industry is being erected—the other is increasingly powerful and efficient mid-drive and hub motors.
But the lithium batteries that predominate in modern e-bikes don't last forever and are increasingly the source of fires with disastrous consequences for affected residents.
Plus the mining procedures to extract the lithium, nickel and other rare metals they require have their own impact on the environment. The Indonesian island of Sulawesi is a case in point for those regions of the world where these metals are in abundance.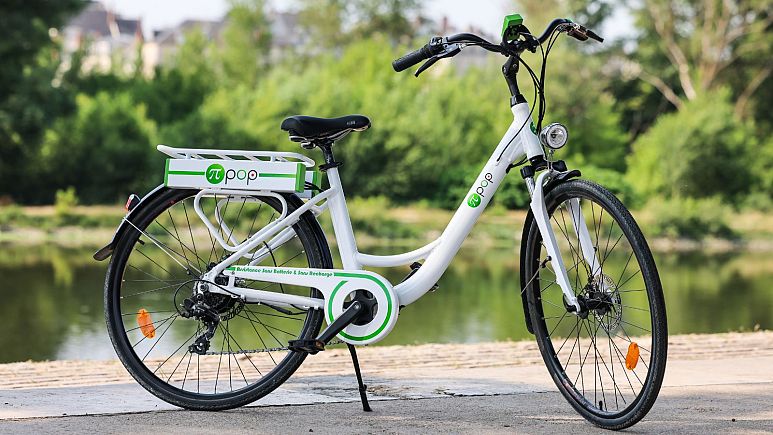 The Pi-Pop e-bike doesn't use batteries but the long used technology of capacitors which don't work by storing energy chemically as with lithium ion units, but as electrostatic (potential) energy.
Supercapacitors store and release energy quickly with braking and pedaling an e-bike being the generators of the electric charge. The rider releases the energy when it's required such as from a standing start or on a gradient.
The only elements used in a super capacitor's manufacturing are carbon, some polymer and aluminum.They last up to 15 years compared to a maximum of 6 years for many lithium batteries.
Is this a "transformative moment" in the e-bike industry as the author of this article claims? We'll see.
Budget E-bike Models from High End Bike Companies

With a high-end brand you get to charge a premium: lower volume of sales of a high-value expensive product vs a higher volume of lower value models.
The moot point: is it worth releasing a much lower value budget model which may adversely impact brand value which is only valuable due to the consumers that respect it confer on it—it's all in their minds … and consumers can easily change their minds.
Cannondale released their Compact Neo for under $2000; Trek's Duel Sport+ and FX+ were released for under $2500. Both are well beneath what these brands charge for their other offerings.
Elektrek argues that these brands can not ignore where the huge majority of sales are taking place, at the low end of the market. Well, they have for many decades and the low priced model strategy could also been applied long before now. So why now, exactly?
The massive shift to e-bikes has not altogether left the non-powered bike market behind. Sales are moving north, but just not at the same rate as e-bikes as they proportionally increase their market share. It seems likely that a close look at the numbers probably shows that reducing what must be a gradual loss of relative market share will only be achieved through targeting the low end.
Ending up like De Rosa or Merckx—boutique, valued, but obscure—is not where they want to end up it seems.
What Can Ribbles' Brand Reinvention Teach the Top Brands Fearing Obscurity?

All you need to revitalize an old—really old!—brand is fresh vision at the top. Leadership is everything.
Six years ago the new CEO, Andy Smallwood, aimed to make them the UK's #1 brand which saw them blast past that modest goal into one of the most in-demand brands worldwide.
When teams don't work, the results are painfully obvious. Ribble's reinvention shows how good a functional (vs dysfunctional) team can be when the stars align. Coming up with 23 new models covering the whole market is ambitious and risky, not to mention when you deliver the world's lightest e-bike—surely a cliche but one which must surely pay off in this sector.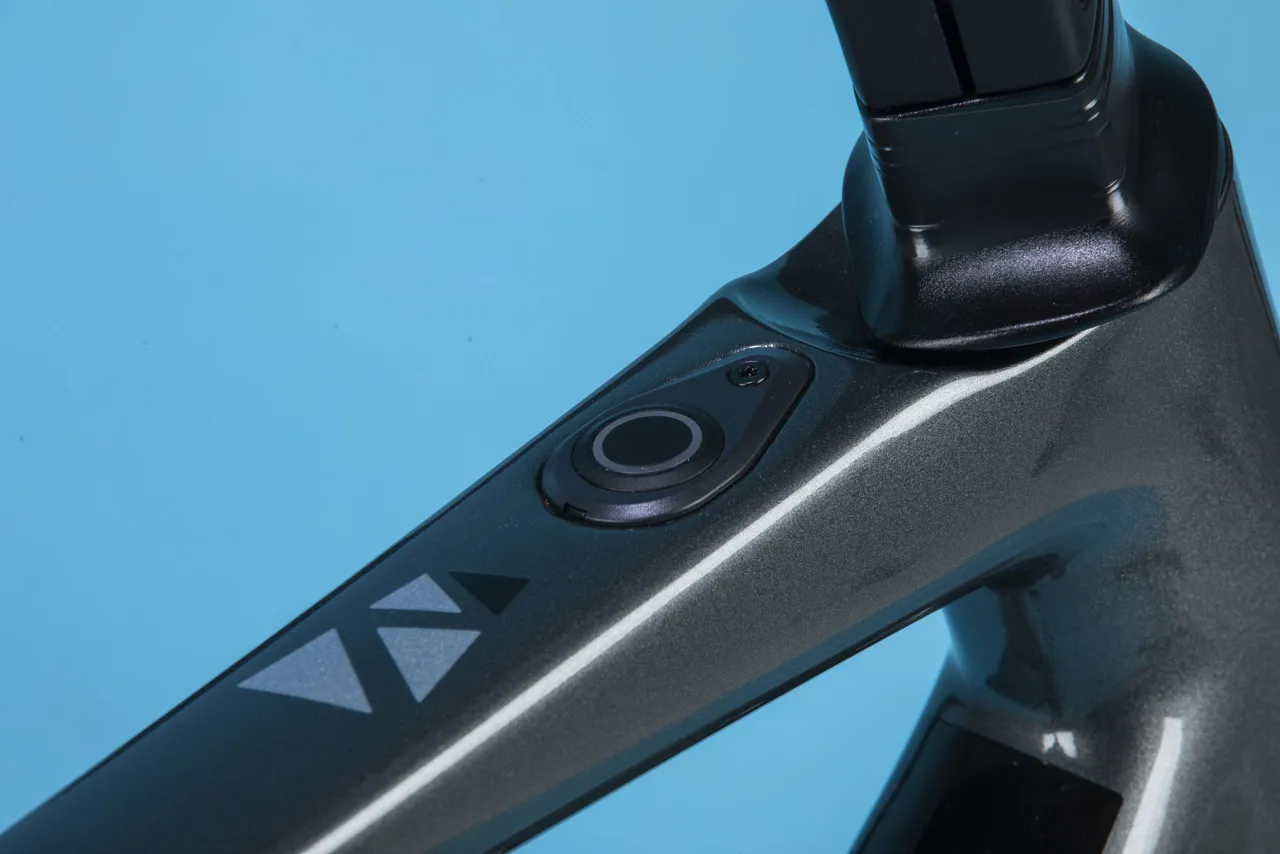 Their direction is perhaps a minor disruption to the e-bike market, but any disruption in this red ocean is well worth a bet. Brands take note . . . of the whole design, customization, customer service package. (The article is from Red Bull who are certainly no slouches when it comes to brand development.)
Car and Motorcycle Brands That Have Made the Leap

At the recent Taichung Bike Week, industry insiders were discussing the number of car and motorcycle brands that had jumped into the bike business.
The consensus was that they're 1. they had found the going tough meaning 2. actually adding value might be a better way to go.
Here is a survey of a few of them, from Ducati, to Hummer, BMW, Porsche, Ford, Jeep, and Maserati.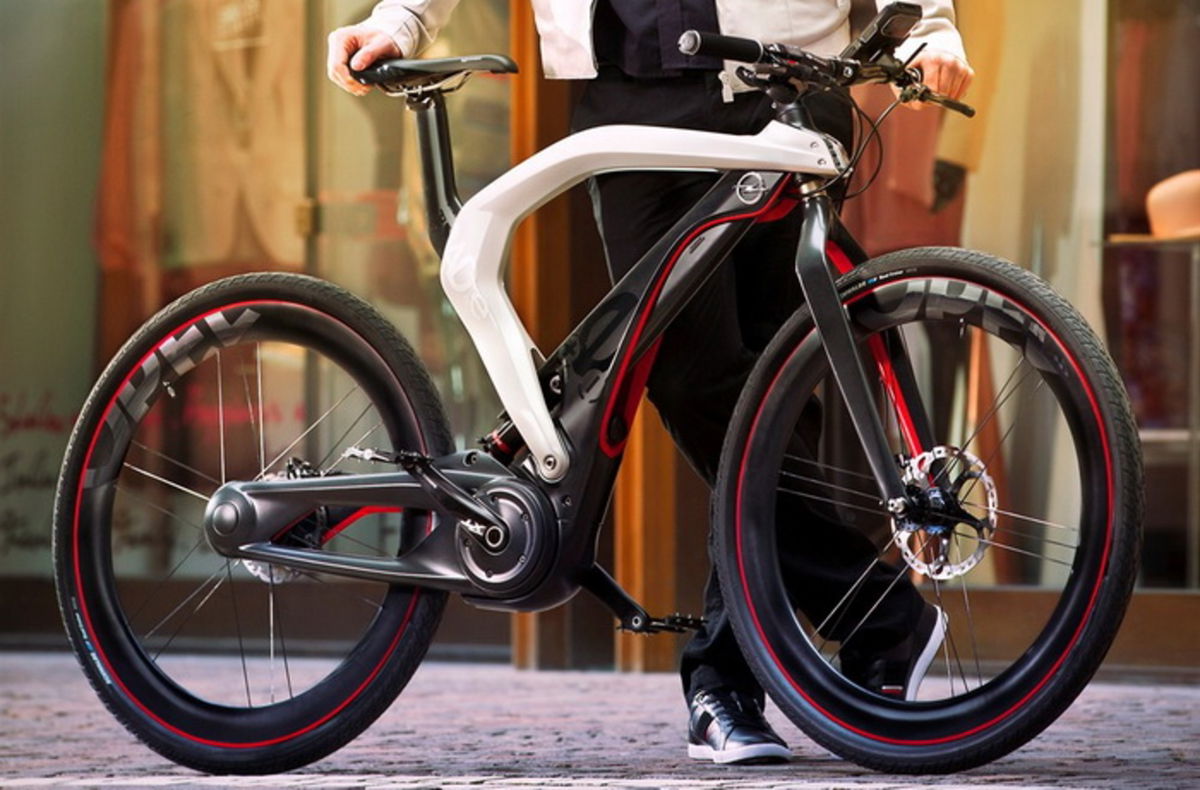 The odd one out is Opel who exactly 100 years ago were the biggest manufacturers of bicycles in the world having been one of the first manufacturers, setting up shop in 1868. Nothing lasts for ever and they were eventually dethroned. The model in the image was shown at the Geneva Motor Show more than a decade ago—they would not seem to have plans to get seriously involved in the current seismic shift to motorized bicycles you would have to conclude.
Legacy motor vehicle manufacturers are pretty much irrelevant, well, apart from Yamaha, whom we'll revisit in the next edition of this review.
Why E-bike Users Burn MORE Calories Than Analog Bike Riders

Dedicated analog road bike riders have been known to hurl insults when passed by e-bikers on classic climbs such as Mont Ventoux.
"CHEATING!!" they cry. Well, change is hard and if you count yourself in this camp, it's only going to get worse.
The paradox is the thing that legacy cyclists disapprove of is just great for the newbies, many of whom never dreamt of getting on a bike before electrification arrived.
Recognizing that many variables—temperature, gearing, speed, cyclist's condition to name a few—impact the efficiency and calorie out put of a ride, Stephen Johnson subjected the same five-mile route to different levels of mid-drive motor assist: zero, middle, maximum. And he measured his output one more time on his analog hard tail MTB just to be thorough.
Unsurprisingly, his findings concur with a rigorous research 2021 study, "Physical activity of electric bicycle users compared to conventional bicycle users and non-cyclists" which found that:
• E-bikers take longer trips by e-bike and bicycle, compared to cyclists.
• Physical activity gains from active travel are similar in e-bikers and cyclists.
• Substituting all car trips with e-bike use leads to a gain of 550 MET min/week.
• Transport mode substituted by the e-bike is still used frequently afterwards.
This alone is enough to support a sustainable transition to e-bikes and a massive expansion of cycling in the longer term.
Why the Slow Uptake of E-cargo Delivery Options?

Faster through congested streets, and greener by a country mile, the US is not rapidly transitioning to e-cargo fleets even as delivery by bike has a long history. UPS, for example, began as a bike delivery service in Seattle.
Studies show that vans are rarely full during delivery runs and even where cargo bikes have to make multiple journeys due to their lower capacity compared with vans and trucks, the bikes traveled the same distance in less time than the van.
In short, the logic in favor of e-cargo bike delivery is unassailable. But the answer is simple: culture as reflected in politics that obviates any consideration of that logic. Without vehicle bans in urban centers, there is no incentive to push the changeover as has occurred in Europe.
Full story here.
And finally, speaking of the impact of law the Rad Power bikes lawsuit will mean all e-bikes must conform to the Underwriter Laboratory's "UL" standards, in NYC anyway.
While the main target is the reduction of battery fires by ensuring batteries certified to a certain standard are used in all e-bikes, the key is legislation which provides the framework forcing action.
In the absence of a culture extolling the reclaiming of urban centers for micromobility solutions to flourish, change will be a long time coming.