There's a dizzying amount of advice on torque wrenches for bikes online.
To make it easier for you, we've put together the complete range of recommended torque wrench tools that you'll find on the top cycling sites.
We've also added models, tips, and recommendations of our own.
This is your one-stop torque wrench information source whether you're a cyclist looking to purchase a torque wrench, or a brand looking for a supplier—here's what you'll discover:
CONTENTS
What Is a Torque Wrench? What Does it Do?
Do You Truly Need a Torque Wrench for Your Bikes?
Which Companies Actually Make Torque Wrenches?
How To Use A Torque Wrench (plus important maintenance advice)
16+ Torque Wrenches
Mechanical Torque Wrenches (includes preset models)
Electronic/Digital Torque Wrenches
WHAT IS a TORQUE WRENCH? WHAT DOES IT DO? (Saves Lives…!)

A torque wrench makes sure that every bolt on a bike is neither too tight nor too loose.
Everyone knows to avoid bolts being too loose; the whole point of a bolt is to bring components together—and keep them together until you decide to undo the bolt and take them apart.
That accounts for the natural instinct to crank a bolt to the point where it can't be tightened any further. Or it starts to feel 'spongy' as the threads begin to strip.
Some mechanics with decades of experience claim they can 'feel' when a bolt, or threaded bottom bracket, is tight enough.
That claim is unproven unless checked with a torque wrench.
Overtightening bolts is a big no-no in this era of high-end, delicate alloy tubing and components, carbon fiber-wrapped alloy (as with many handlebars), and easily crushed carbon fiber.
What Has 'Tolerance' Got to Do With This?

Tolerance is an engineering concept which allows that precise measurement is not always necessary and often impossible.
The bike component manufacturing industry machines components to within a few hundredths of a millimeter, since CNC cutters are capable of that level of precision.
Accuracy becomes a matter of degree, though, once you get into the hundredths, let alone a few thousandths of a millimeter (the bike industry is not yet working at the nano or pico level…thankfully).
Therefore as long as components are machined within a limited range of measurements, say + / – 0.05mm, components will fit as required.
Torque values allow for a similar range of tolerance around a fixed point and the bigger the component, the larger the tolerances.
Hence, threaded bottom brackets come with a recommended torque of from 35 Nm to 50 Nm or 35-45 Nm.
As long as you tighten at the limits, or anywhere inside that range, then the probability the BB will loosen is small.
The probability that you won't be able to remove it in a year or so is also very low (that's why you must avoid overtightening a bottom bracket).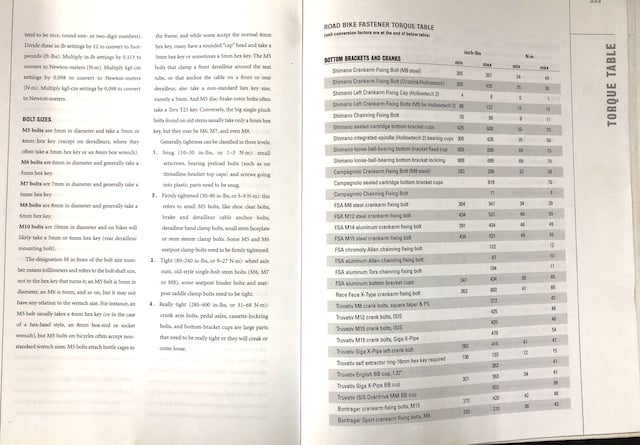 Each of Leonard Zin's essential guides to bike maintenance includes a section detailing the recommended torque settings for every component across a wide range of brands.
He begins the section with a bike diagram indicating the torque settings for every component that is handy to have pasted on the workshop wall. (I don't include here because you really should go buy the latest edition…it belongs on every cyclist — and bike pro's — bookshelf).
You'll soon memorize the settings if you are a pro assembling many bikes every month.
DO YOU REALLY NEED A TORQUE WRENCH FOR a BIKE?

If you have a cheap bike from a big box store, then no, you don't.
Any cyclist on a bike costing more than a few hundred dollars must include a torque wrench in their toolkit alongside a set of (at least) 3, 4, 5, and 6mm Allen wrenches, tire levers and the like.
Using a torque wrench is all about safety.
If your rear derailleur bolt is not tightened to at least 5 Nm and consequently shakes loose on a ride, that's inconvenient.
The bike is still rideable; you'll just have to walk up the hills.
Overtightening a derailleur clamp on a carbon frame's down tube will crack it—the risk of sudden failure is high.
Even more so, ignoring the very fine tolerance recommendations for stem bolts and the stem handlebar clamp can cause the handlebar to snap…with obvious, potentially deadly, consequences.
WHICH COMPANIES ACTUALLY

MAKE

TORQUE WRENCHES?

If you're a cyclist, that bike tool you bought — or are planning to buy — online or in your local bike shop was probably made in Taiwan, or China
Otherwise each item would a cost a lot more—a good torque wrench sourced in the Far East is easily affordable.
If you're a brand looking to get a tool designed, or buy 'off the shelf' then, again, somewhere in Taiwan (most likely Taichung or Changhua) is a company
that has the tool you need, or
is able to source it.
One company in particular, Bike Hand, makes a huge range of tools. One of Bike Hand's torque wrenches is possibly the most popular and most widely used bike torque wrench in the world.
That model, which I'll look at in detail later on, is sold by another local brand under their label.
It's common for tool companies to specialize in the design and production of a limited range of tools even though their catalogues may offer a tool in every category.
Companies complement their catalogues by offering tools from neighboring companies.
HOW TO USE A TORQUE WRENCH ON A BIKE

It doesn't matter what brand of torque wrench you buy.
If you don't use the tool correctly, you have wasted your money.
Here are Usage Pointers for a Bolt on One Side

When you tighten the bolt to the point you hear the torque wrench click, you have not yet reached tolerance, at the first go at any rate.
The trick is to ease off the tension. Then continue. You'll note the bolt turns a little further before the wrench clicks.
Ease off again, then repeat, several times if necessary.
Once the wrench clicks without any further rotation, then you have reached the desired setting.
Despite the calibration you might have set on the torque wrench, you never really reach that nominal setting due to thread friction.
That's why grease is important…it reduces friction and gets you closer to an accurate reading.
Here are Usage Pointers for Where You Have a Bolt on Both Sides

The trick is to tighten each side in turn, bit by bit.
Tightening one side affects the bolt on the opposite side — if you had reached tolerance on that side, tightening the opposite side loosens up again.
So you need to re-tighten to tolerance.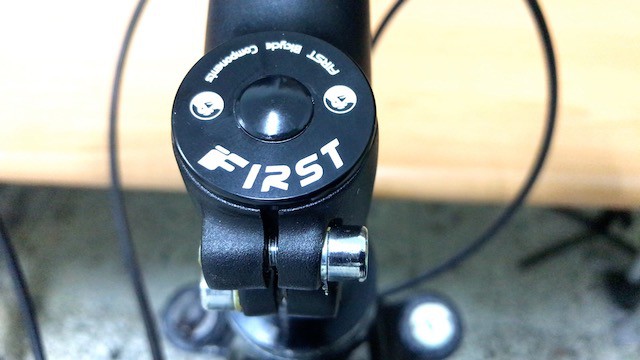 Bike stems are where you'll find most twin bolt setups.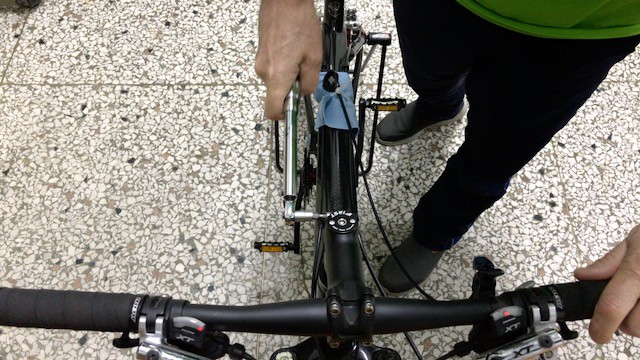 A maximum of two turns on one side.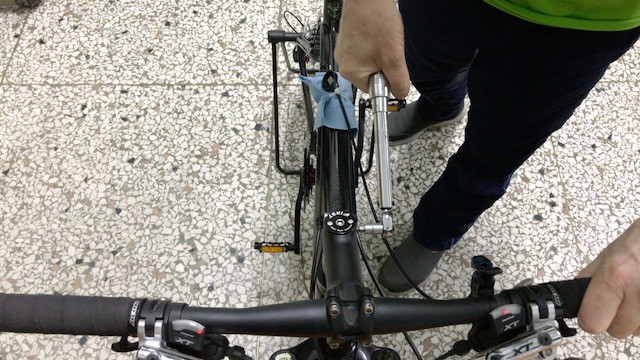 Then swap to the other for another two turns.
As you approach tolerance on each side, you'll need to crank the handle merely a few millimeters to achieve it.
Here's a section of our video on the final stages of MTB headset installation featuring tightening mountain bike stem bolts.
Important Torque Wrench Maintenance Advice

Always store a torque wrench at a zero calibration setting.
A torque wrench spring loses elasticity under prolonged periods of tension.
That means less and less accurate readings over time—you'll need to recalibrate the tool more often.
Dial in the right setting.
Use the wrench.
Turn it back to zero.
Then store away ready for next time.
MECHANICAL TORQUE WRENCHES FOR BIKES
There are two types of mechanical torque wrench:
Large: for bottom bracketsSmall: for all other components.
Large Torque Wrenches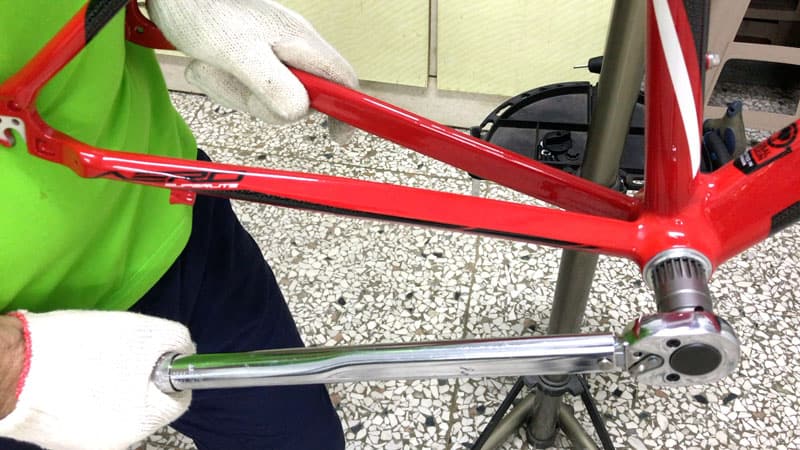 Large torque wrenches, with a range of around 28-200 Nm are used for threaded bottom brackets.
They can be uni-directional or dual direction — clockwise or anti-clockwise.
Uni-directional torque wrenches don't allow you to directly measure torque on the drive side of a threaded bottom bracket, which is a left hand thread.
One way around this is to guestimate: crank the BB to what feels like tolerance, which is easy enough since bottom brackets have wide tolerances of from 10-15 Nm (35-45/50 Nm).
Then reverse the direction. Take it off, refit to the BB, then crank it as if to loosen the BB.
The wrench should click before the BB begins to loosen.
Assuming you have not overtightened the unit, you should be within tolerance.
Easier, of course, is to get a dual directional torque wrench.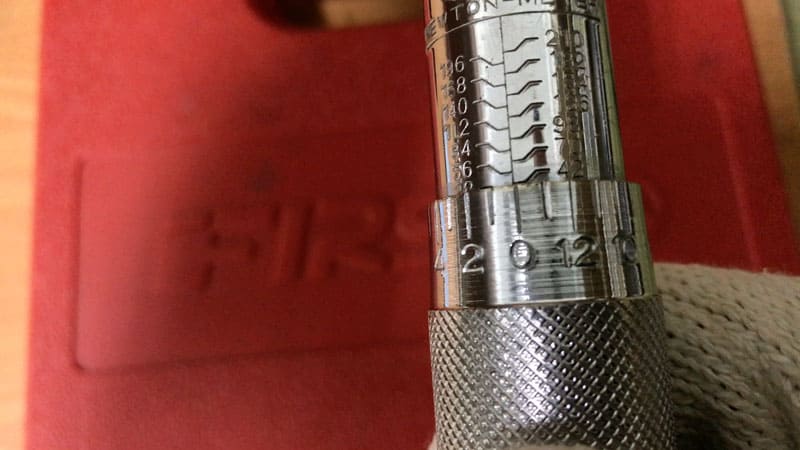 Select a torque setting by turning the handle. All models work in a similar way even as the details differ.
On this older model, settings etched into the shaft are divided into increments of 12 Nm. 
Those increments are etched into the handle starting at zero.
Since this model's calibration scale starts at 28 Nm, to select a torque of 31, say, you rotate the handle from zero to the mark in between 2 and 4 (ie. 3), making sure you are between 28 Nm and 40 Nm as per the calibrations marked on the shaft.
Small Torque Wrenches

These wrenches are for components with torque tolerance settings from 2 Nm to 20 or 25 Nm, depending on the brand of wrench.
That includes handlebar stem bolts, stem bolts, shifter bolts, derailleur cable bolts, brake cable bolts, front/rear disk brake caliper bolts, front derailleur clamps, derailleur bolts, crank and seat post clamp bolts.
B2B Suppliers

I'll briefly cover some of the more well-know suppliers among B2B buyers based in Taiwan.
Bike Hand is the direct manufacturer of a wide range of tools, many of which are branded by other companies and sold online.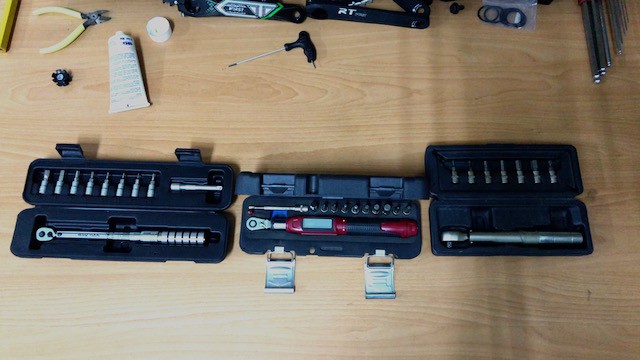 In 2017-2018 their torque wrench (far right in the image) was the top seller on Amazon, sold under the Bike Hand brand, as well as several others.
Bike Hand's range is extensive with a torque wrench to suit every need.
Shiang Long is another producer; Coloury also has several models, including a preset torque wrench kit.
U-Power Collection Enterprise is another specialist tool company.
For Consumers

Park Tool, Tekton, Effetto Mariposa Giustaforza, Topeak, IceToolz, Venzo, Birzman, and X-Tools offer a section of bike torque wrenches for any need, from budget through to deluxe.
In evaluating a torque wrench, a key variable is durability over time.
Only someone who has used a particular torque wrench heavily over a number of years is in a position to give quality feedback on that wrench's ability to withstand constant usage, and not a few drops to the floor.
Despite that, here is a solid selection of torque wrenches for bikes that have earned respect.
Park Tool

The TW-5.2 model ranges from 2 -15 Nm which covers every use scenario including crank pinch bolts (cranks with a single bolt such as SRAM with high torque settings eg. 47-52 Nm require a large torque wrench).
The readable gauge is a plus: older models from well-established brands had gauges that were hard to read, although the increasing number of torque wrenches on the market in recent years all provide good quality gauges.
The 4-6 Nm ATD-1.2 is a good choice if you are just tightening stem bolts, derailleur, and brake cables.
Its portability also makes it an excellent alternative to preset models (covered below) quite apart from its adjustability across from 4-6 Nm.
Only some seat post clamps and pinch bolt cranks are out of reach with this one.
Tekton #24320

The 2 – 22 Nm range makes this a versatile torque wrench.
It's got everything you could want in a high-performing torque wrench, down to the non-slip grip and elongated lock-bolt at the base.
This demonstrates how you dial in — literally — a torque setting.
The shaft is marked in 15 Nm increments which you can increase in 1 Nm increments by rotating the handle — lock the handle to lock-in the setting.
Effetto Mariposa Giustaforza

An Effetto Mariposa Giustaforza model is the one to go for if you are into really high-end wrenches.
The Effetto Mariposa Giustaforza 1-8 Nm is designed for working in tight spaces.
A common solution to awkward or tight wrenching in general is the use of extension bits. And this tool provides several, in addition to the widest range of bits — 12! — of any tool on the market.
It wraps up nicely into a portable pack, although you'll hardly need this level of weaponry on any but a
Although, at USD175, it's expensive…and you have to send it back to them for calibration periodically (rather than get it done locally).
Other models in their range include the 2-16, the 2-16 Pro, and the 10-60 Pro, the number referring to the upper and lower limits of their ranges.
Topeak

One of Taiwan's most innovative brands, Topeak has come up with many technically sophisticated and very handy tools and gadgets over the decades.
Their torque wrenches are no exception.
The Torque Stick takes care of bolts from 2-10 Nm in the 3, 4, and 5mm range. 
You can mount in on the seat tube or down tube as you might a portable pump.
Of course, a pump is an essential item, a torque wrench less so…
Topeak's Nano TorqBar DX is typically Topeakian, to coin a term—it packs a lot of technical fire-power into a compact unit, and covers 3, 4, 5, and 6mm bolts, including Torx 20 and 25 bits.
This model won a reddot award and seems to represent better value for money than other much more expensive compact wrenches.
Topeak's Combotorq Wrench and Bit Set is another example of Topeak's approach to thinking through tool design.
3-6mm is covered along with T25.
IceToolz

IceToolz Ocarina Torque Wrench covers 1-10 Nm from 3-6mm, and has a T25 bit.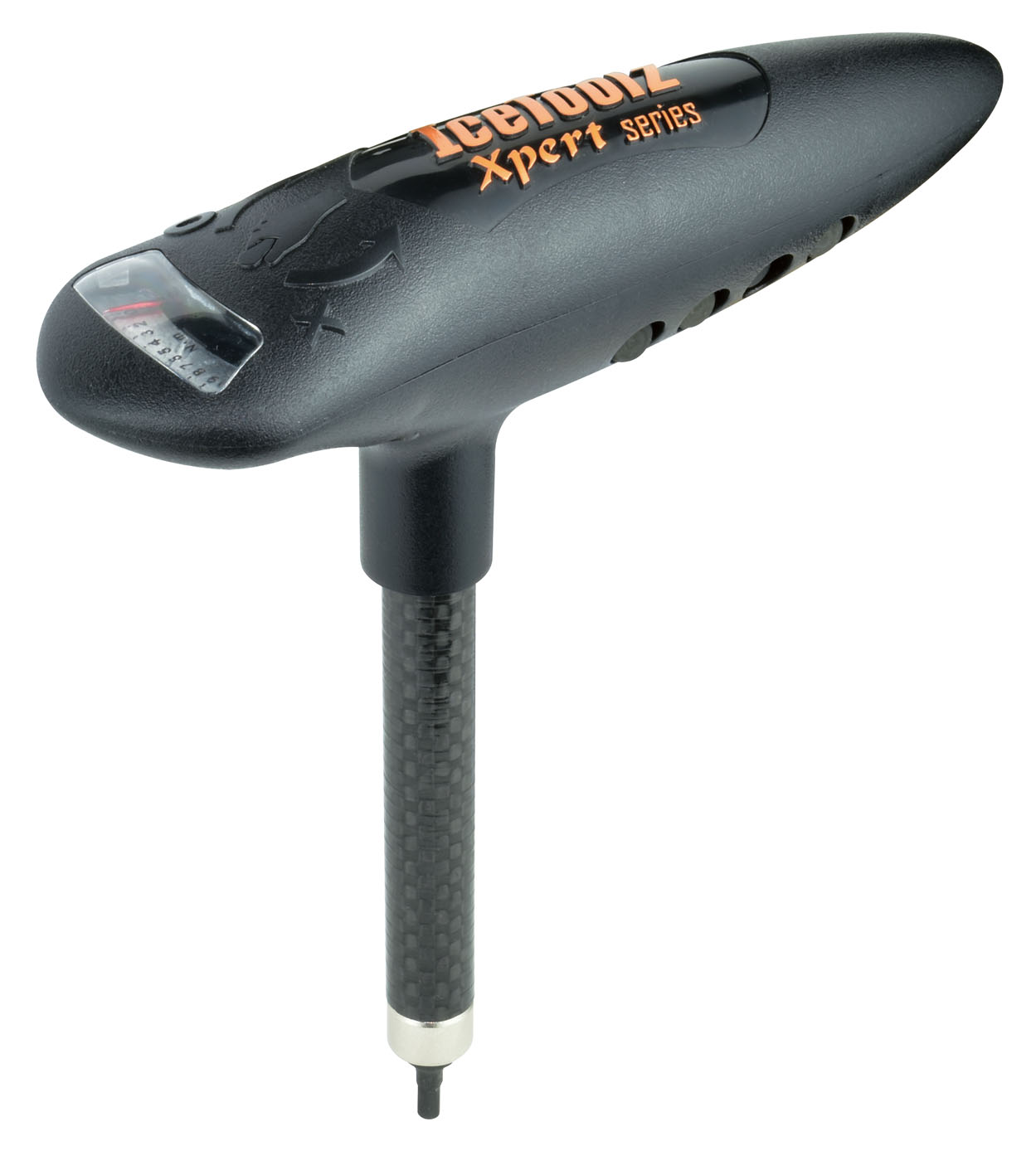 Apply force as you read the gauge from above, stopping when you've reached tolerance.
Venzo

A massively popular torque wrench built by Bike Band.
9 bits, an extension bit, covering 2-24 Nm to dial in correct torque for everything apart from a bottom bracket.
The gauge gets hard to read but only after many years of use and is perhaps a bit small overall—wrenches with larger calibrations etched onto the shaft and handle are easier to read at a glance.
X-Tools also sell this under their own label.
Birzman

Birzman produce a range of great, well-built bike tools, including torque wrenches.
The 3-15 Nm range is what you need in a small torque wrench.
Nm increments increase at a very detailed minimum of 0.1 Nm for each adjustment.
To adjust the torque setting, you pull down on the handle, rotate to the desired setting, then let it snap back into position.
This is arguably a better solution than a lock-nut at the base of the shaft, as it's an extra movement to have to tighten the nut. Often the handle turns in the process requiring re-adjustment back to the correct setting.
Preset

Being light and portable, preset wrenches are great out on the road.
They are are also handy in the workshop.
There's no fiddling around adjusting the tension. Fit the right socket; torque the bolt.
Birzman has 4, 5, and 6 Nm preset models to choose from.
Lock-in the bit; tension the bolt. The grip is designed to fit fingers, not hands.
Ritchey likewise gives the user a finger-grip ergonomic handle .
They have 4 and 5 Nm models available to cover 90% of the bolts that require a torque wrench.
FWE opts for a T-shaped handle which fits more into the palm of the user's hand.
Which one is better depends on the context.
5 Nm is not much, but will still challenge the fingers twisting on the grip, whereas a
ELECTRONIC/DIGITAL TORQUE WRENCHES FOR BIKES

These are small 2 Nm to 20 or 25 Nm torque wrenches are set via a digital scale.
Hit the button, up or down, to select the exact setting. An alarm sounds when you reach tolerance.
Some points to note about electronic wrenches:
the batteries can run down quickly
the alarm can malfunction, sounding too early, or not at all.
Mechanical torque wrenches are cheaper and avoid these disadvantages.
Topeak scored another reddot for their D-Torq wrench.
It has a range of 1-20 Nm with 2, 2.5 – 6mm bits, including PH2 and T25.
Unior offers a small electronic model covering 1-20 Nm and a large wrench that calibrates to 85 Nm.
Bike Hand's YC-627 and the deluxe YC-627-RS offer you a choice of sound digital torque wrenches.
FINAL COMMENTS

The range of torque wrenches for bikes is large — and getting larger.
If you've never owned one, choose a model and add it to the tool kit.
It will be the first of at least two or three you'll own while you own a bike or run a bike shop.
It can take two or three purchases to find the one that's just right.
You can't go wrong with the snap-lock handle calibration type of wrench. They are hardy, easy to use…and the scale is easy to read which becomes more important over time.
The wrenches that encase their scales under plastic become less visible over time due to a combination of fine scratches and dirty grease.
Plus the scale itself can work loose and give inaccurate readings.