Note: This article will be periodically updated as we head towards Taipei Cycle 2023, so bookmark this page.
Scroll through this post for the latest trends and products you'll not find covered in any other info about the show

* * *
The last edition of Taipei Cycle closed doors at 3pm on March 30, 2019.
Since then, the cycling world has been turned upside down:
The mainstream adoption of E-bikes massively accelerated
The supply chain squeeze has resulted in product lead times of at least one year and usually two or even three years in some cases.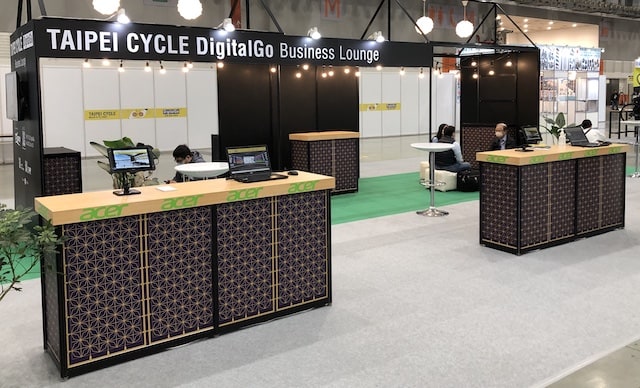 A key innovation for this edition of Taipei Cycle is the digital version, DigitalGo, was held concurrently with the physical show (last year's Taipei Cycle was all DigitalGo of course).
The DigitalGo part of the new hybrid format lasts a month in contrast to the four days of the traditional show.
CONTENTS
The Recent (Tortured) History of Taipei Cycle
Taipei Cycle d&i awards (updated yearly)
Taipei Cycle Trends and Products (updated yearly)
i) Bikes, Components and Parts
ii) Systems and Partnerships
iii) E-bikes
iv) Cool Tools
v) Major Innovations
Taipei Cycle 2023
The Recent (Tortured) History of Taipei Cycle

The last "normal" Taipei Cycle was way, way back in 2017.
Then Taitra (Taiwan External Trade Development Council), the body responsible for organizing the show with the support of the Taiwan Bicycle Association, decided to move Taipei Cycle from March to November of the following year to better position the show for product managers.
That's whyTaichung Bike Week, a semi-formal mainly appointment-only show for brand product managers, is held in November each year—mangers lock in deals for the year-after-next product year.
Moving Taipei Cycle onto Taichung Bike Week's turf led many to question the need for both events.
However, when Taipei Cycle 2019, held a mere five months after the 2018 edition, finished late in the afternoon of November 3, the verdict was already in: the industry preferred things to return to to normal.
The decision was then taken to switch the event back to March which, in order to give punters a chance to catch their breath, was slated to open on March 27 and finish on March 30, 2019 . . .
. . . to finally re-open three years later on March 9, 2022 of course.
Taipei Cycle d&i awards

The d&i Awards are classified as part of the Smart Sports and Smart Riding Forum Series.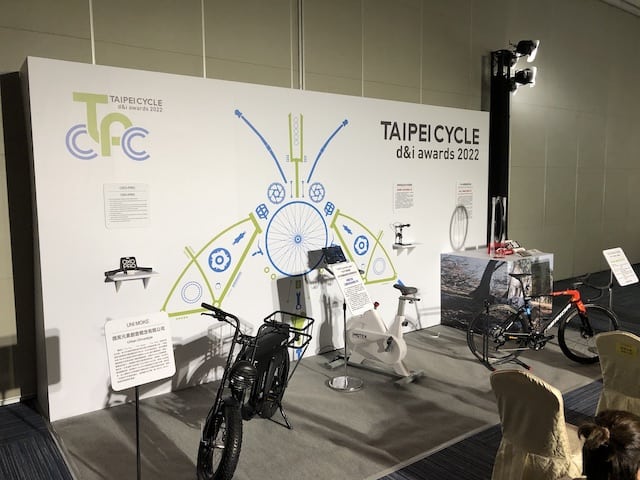 The ceremony is largely a media event held to publicly acknowledge winners and present them with their awards.
There are 5 categories, with E-bikes and Smart Cycling being recent additions:
Complete Bikes
Parts and Components
Bicycles and Accessories
E-bikes and Drive Units
Smart Cycling
33 awards were conferred in this year's event with 6 — as usual — winning a coveted gold award.
d&i JUDGE GIDEON LOEWY'S COMMENTS

Gideon Loewy addressed the awards ceremony group stating where he thought the emphasis on product development should lie.
Bicycles, he said, "are no longer seen as products. They are seen as services. The strength of Taiwan is the manufacturing of products. But the future of bicycling is in services and experiences."
While this year's Taipei Cycle was limited in scope, there was a marked increase in the number of manufacturers or brands offering services and not simply isolated products.
This can be seen as the restating of an old theme: to escape the relentless pressure of commoditization, pursue (potentially massive) added value . . .
And as Jeff Jervis observed over a decade ago, the most lucrative business model is to become a platform. Or as others have criticized, a "walled garden".
However you look at it, a business model based on recurring revenue from clients and customers from the value you provide—and continually improve upon—so they don't even think of looking elsewhere is probably as good as it gets.
Taipei Cycle – Trends & New Products

This year's Taipei Cycle was limited due to Covid-19. 
Around half of the companies who normally participate occupied a booth. And those who did opted for much smaller booths than in previous years.
Foreign visitors who would have normally attended stated that the 14 day quarantine period was too long.
Anticipating minimal foreign visitors, most companies opted to wait until it's business-as-usual once again.
Hence, you can't say the show is representative of where the supply-side of the bike industry is at right now.
The dominant trend, as you might expect, was electrification.
But, in keeping with Gideon Loewy's comments, the most impressive product offerings came in the form of complete systems, and not stand-alone products, although there were certainly plenty of those.
BIKES, COMPONENTS AND PARTS

Long time participants like Bike Hand, Coloury, Liangfeng, and others had new products on display amongst a range of familiar items.
FIRST Components – Direct Mount Crank

We didn't have a booth this year but have released this direct mount to coincide with the show.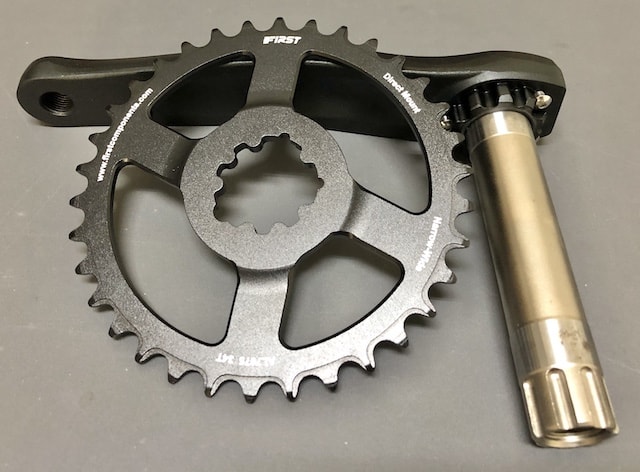 For enquiries click right here.
Yuen I Storage (d&i awards winner)

Yuen I 's lightweight shelf storage for a cyclist, or even a family of cyclists, takes jerseys, windbreakers, shoes, helmets and bikes to boot.
It's not clear whether you can add extra shelving below the jerseys—the unit's tall, so loading heaps of kit on the top half may make it wobbly.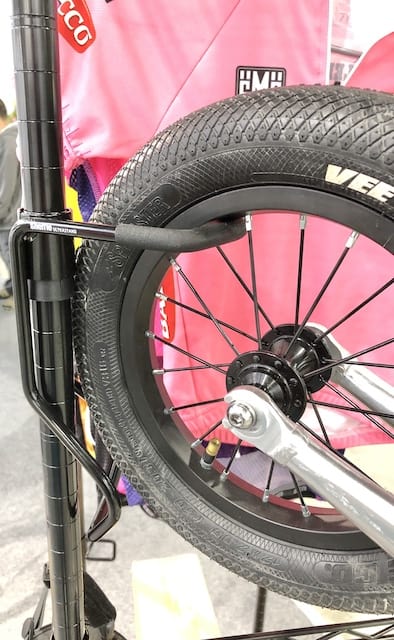 Being able to shift the bike hooks lower would be a fix for any stability problems.
Zeno
Zeno, presented their next generation of Speedlink Hydraulic Connectors . . . AND a nifty bar-end tool, a category of tool that's almost a trend (I'll reveal the details in the Cool Tools section below).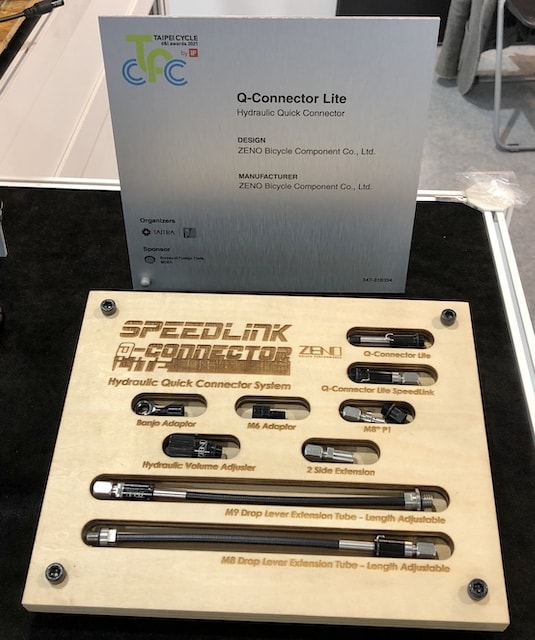 Zeno's Q-Connector Lite kit scored a d&i gong one year ago—the event was held even though Taipei Cycle was cancelled (ok . . . "postponed" again in 2021).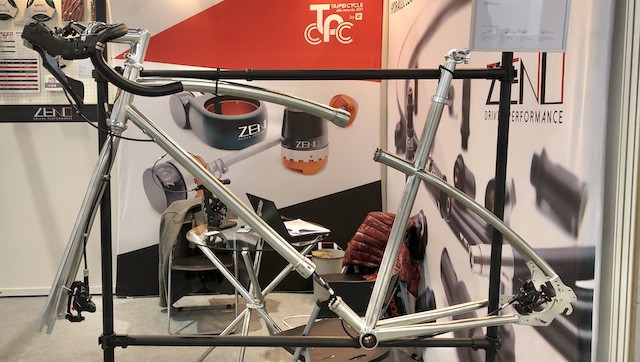 The complete hydraulic solution was demonstrated on this unique frame built for that purpose.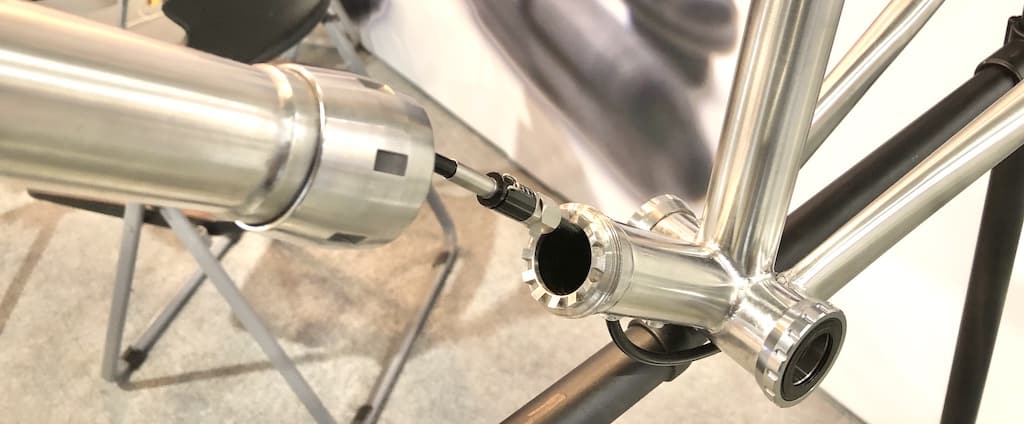 They've redesigned the connecters for super-quick release and reconnection.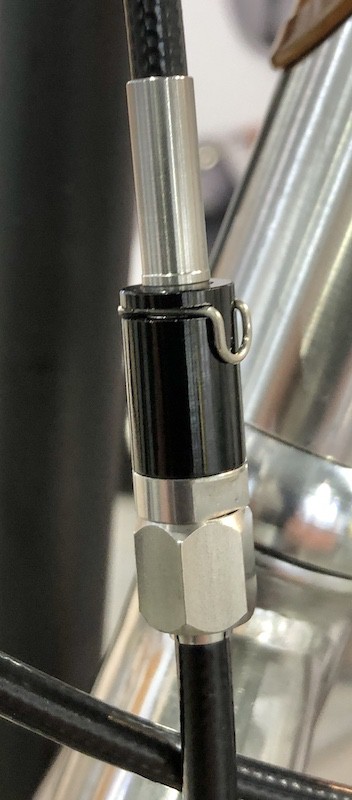 The clip's securely in place.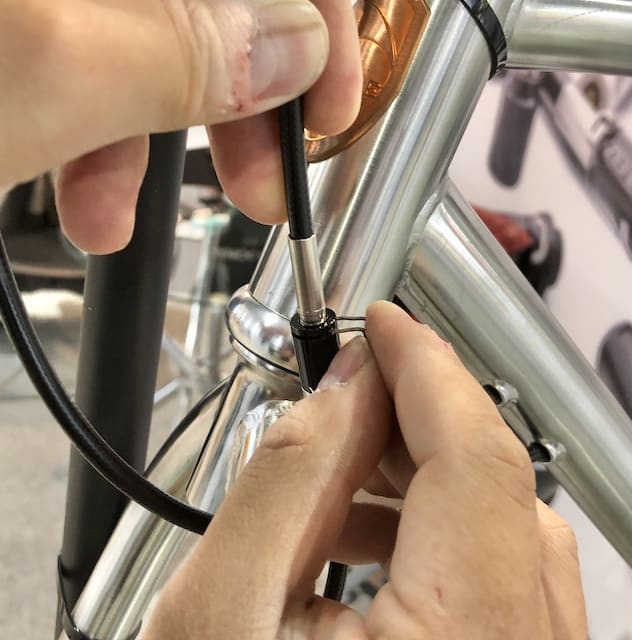 Prise it free to uncouple the hydraulic hose. Snap into position, then push the pin home.
The guys report that they've experienced headwinds in getting this newish brand in front of consumers.
As a new brand, distributors are not all that interested. So they're looking to go direct via Shopify and have used Amazon ads to gain brand visibility.
DaBomb's gravel bike

A new one from one of the coolest brands at Taipei Cycle across the years: Da Bomb introduced their "Neutron Bomb".
Gravel bikes were — surprisingly — few on the floor at this year's show. And this one was full carbon.
If you're not embracing "E", then a good looking carbon GB, while maybe not sufficient, may well still be necessary to keep up with the rest of the industry as it increasingly shifts to high tech.
And on that note, might we expect an electrified version at next year's Taipei Cycle . . . ?
Trigon's AR01

Trigon's "All-Rounder" could be viewed in the same light—a nod to the future rather than a full-on embrace.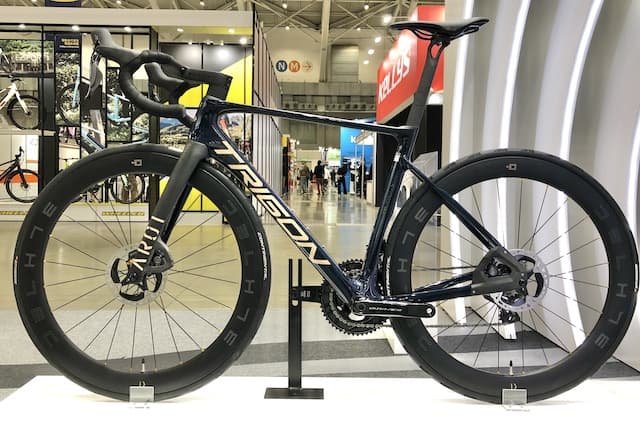 According to Lance Lee, son of the company founder, this is basically an aero design.
"With our in-house Vortex-Tubing-Technology (VTT), the tube surface is engineered to be Golf-ball-like [and the] unique carbon cover on the front and rear calipers is not only for aerodynamics, but also to remove heat from the disc."
"We took the AR01 for wind tunnel lab testing, the result being an aerodynamic improvement of is 19% over Trigon's HC01-D. This means saving 32 watts or 150.4 seconds in a 60km/ TT race."
Aerodynamic and "comfortable" the up-to-32c tire clearance means you can take it on "light" gravel rides.
Liangfeng—eMTB and Cargo Bike Forks Only

Liangfeng has a long history of OE manufacturing (Giant, VanMoof, Fritz Jou, BESV…) and only began exhibiting at the show a few years ago.
The company's founding is typical of so many in the Taiwan bike industry supply chain.
The founder was a first generation worker at Giant, eventually leaving to found his own firm as a preferred supplier to Giant.
Many companies began in the same way, although perhaps not at the behest of Giant. Topeak is a well known example; Chuan Wei is a lesser known example (ElliptiGo; Pro-Lite; assorted cargo bike frames).
The founding generation did not see any form of marketing as important, until the next generation pointed out that presenting at Taipei Cycle was the minimum they should be doing.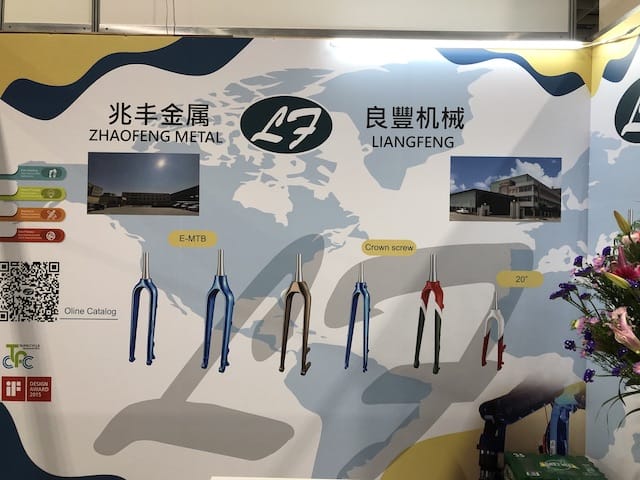 E-mtb is hot, so e-mtb forks occupy one wall of the booth.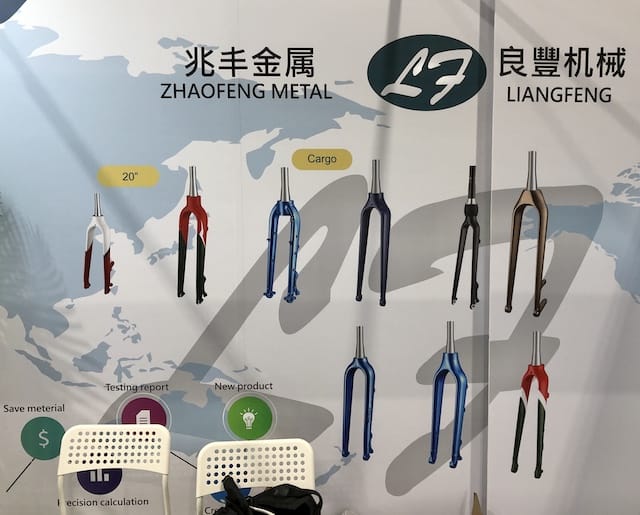 Cargo bikes are hot, so cargo bike forks feature on the other wall. And that's it.
They recently got into dropper posts and supplied Taiwan's Youbike 2.0 with mechanical dropper posts. So when you hop on a Youbike, think of them.
L-TWOO Prototype Electronic Shifter

Fasten this unit to the seat stay of any bike to provide electronic shifting.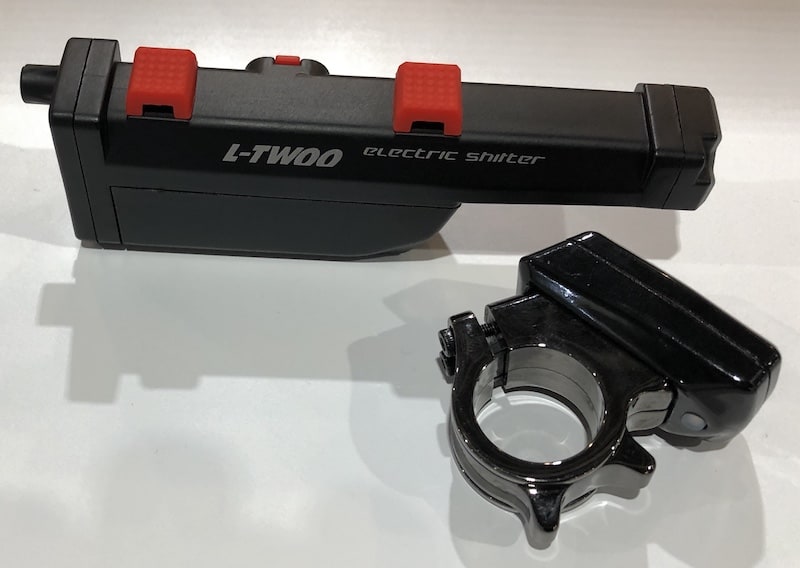 The handlebar shifter sends a signal to the shifter which pulls or releases a very much shortened derailleur cable.
The company claims it to be compatible with any shifting device from 3 speed to 13 speed. The first generation will be released at the end of this year.
SYSTEMS & PARTNERSHIPS

The mass adoption of e-bikes from the mid 2010s also coincided with the continued rise of cloud computing and mobile internet technologies—5G, 6G, and edge computing (the cloud on steroids).
The combination of the electrification of the bicycle industry, the embrace of green technologies, and advanced semi-conductors is opening up a new world of product creation opportunities for companies savvy enough to take advantage.
One manifestation of this is the new range of partnerships in which legacy bicycle component manufacturers partner with legacy tech companies.
Given that the latter are usually way bigger than the former, the impact on the bike industry in the next decade will be profound.
MPF Drive

What stood out at MPF Drive's booth was a cargo bike with a dual battery.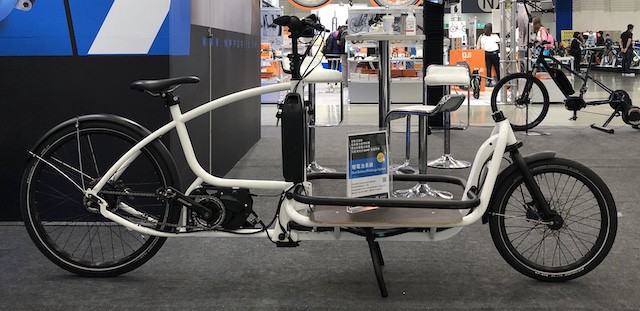 There were more cargo bikes than gravel bikes on display at this years show, although both categories constituted a — surprisingly — small proportion of the total number of products on display.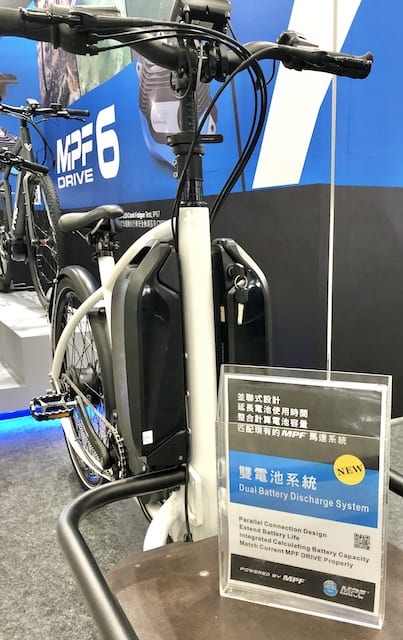 Of course anything emblazoned with "NEW" will always catch the eye of anyone on the lookout for the latest kit. Keego (see below) also introduced a dual battery model to beef up their "Complete Delivery Solution".

MPF released their latest motor, "7.0", to the market on March 9.
7.0 S is for sport applications; 7.0 L is for less intense usage such as on city bikes.
Their motors are heavier than competitors since they use metal gears, not plastic. This motor is the lightest yet, and uses four metal gears rather than six.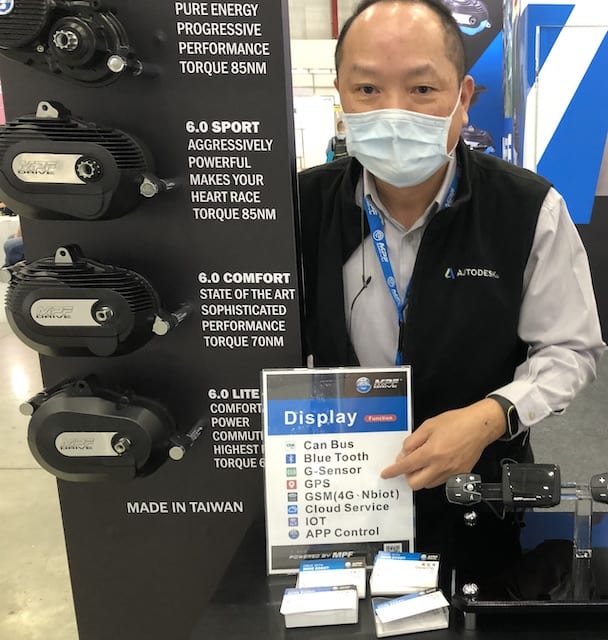 MPF has also released their 3rd generation cloud system, a great example of adding value.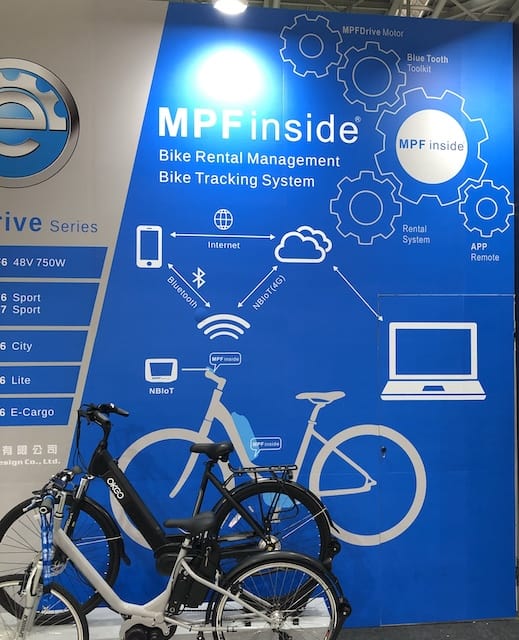 An ostensibly mid-drive motor company, the main product is actually their cloud platform, where the motor is one part of the whole.
Making data available to cyclists on the one hand greatly enhances their riding experience. And dealers who need to provide service know exactly what's up with every motor on their grid which enables lightning fast response to problems when they arise, or proactively, even before they arise.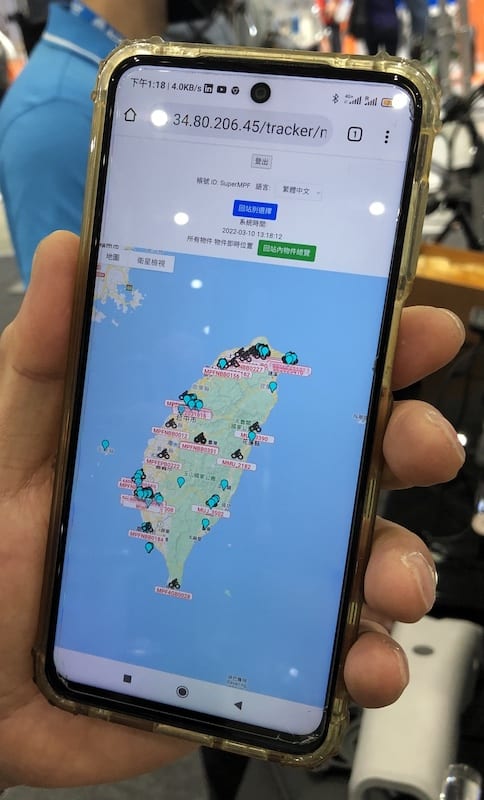 The app shows the location of every MPF motor in use and logged into the system. Clicking on any user displays all variables in real time.
But with data protection now a trend as jurisdictions around the world progressively enact regulations controlling what can be collected by whom, and under what circumstances, could it be that this level of 'surveillance' will be outlawed in many jurisdictions sooner or later?
Perhaps, but unlikely.
The central issue is the recognition that data belongs to the user, the person who generates the data, not the entity collecting the data.
Giving them the option to easily opt out and delete any data already collected would likely satisfy most regulatory intent.
In the spirit of cross-niche partnerships which seems to be a key theme in the bike industry these days, MPF discussed the possibility developing a motor for Darfon, the battery-maker that has grown its product range enormously since they first appeared at Taipei Cycle.
After some back and forth Darfon decided to go ahead to bring a motor to market on their own.
Xpedo

Xpedo rolled out their latest training system.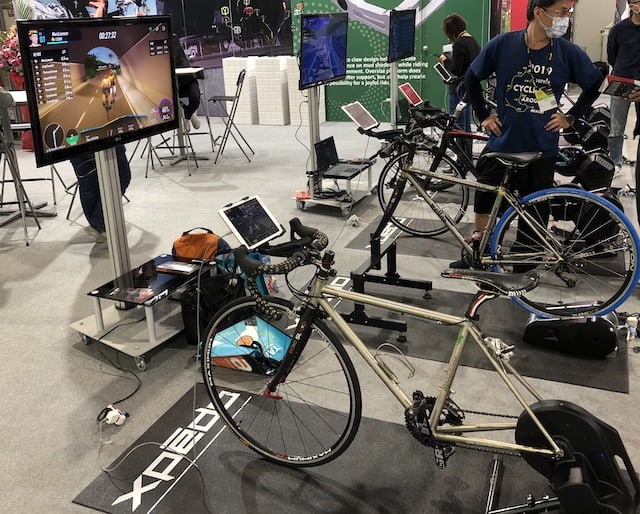 The story here is the partnership between Xpedo and the software provider, Uniwill Technology founded in 2014.
The business model currently in development will be based on selling subscriptions to the software, rather than turning a profit on selling an exercise bike.
Keego Mobility

Founded in 2020, Keego offers two cargo bike models.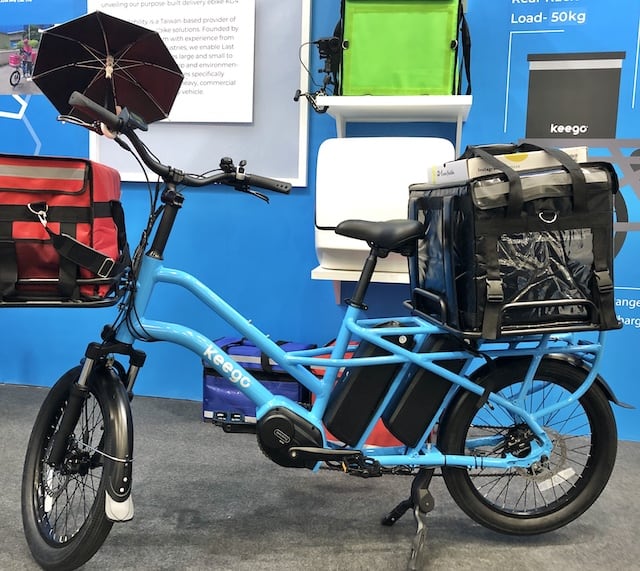 Like MPS though, their main product is their "Complete Delivery Solution".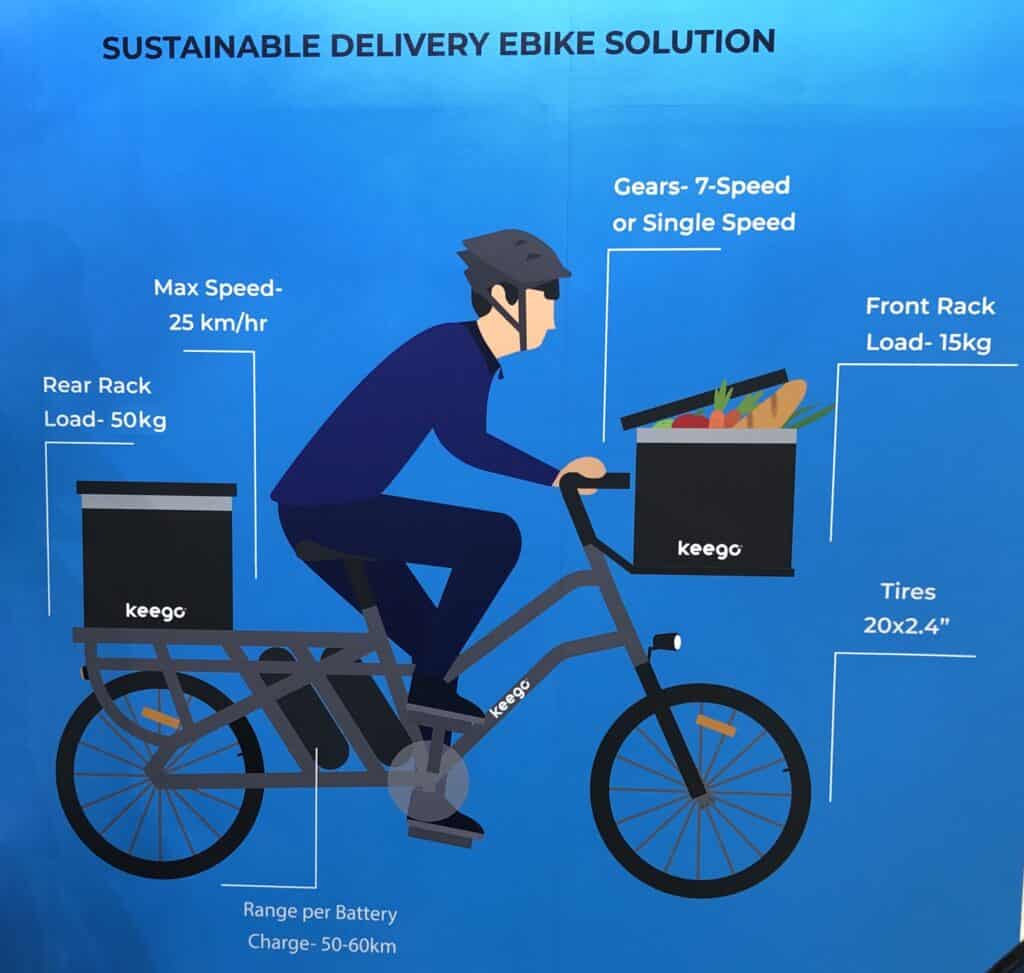 Keego's IoT-enabled delivery ebikes, driver's app and a Fleet Manager Portal provides a system for upgrading, growing or starting a delivery company.
A budding entrepreneur confined to the gig economy could go into business for themselves providing last mile delivery in their local area.
Xplova and Acer

Owned by Acer Gadget Inc., Xplova directly competes with Xpedo and like Xpedo introduced an entry level trainer at this year's show.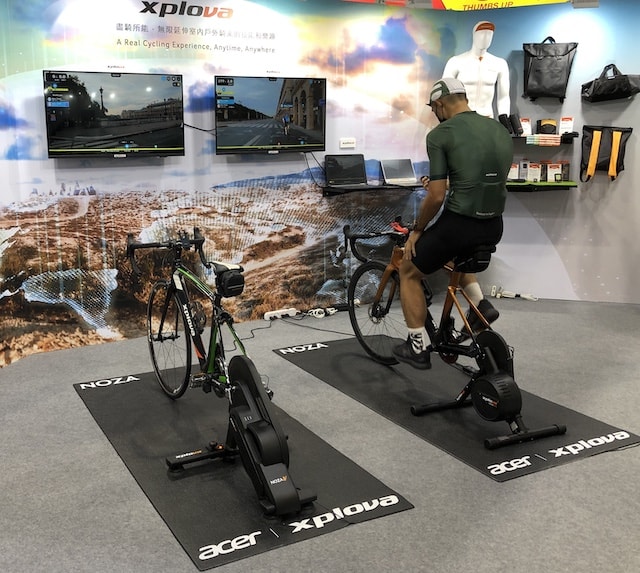 They also introduced a range of apparel and accessories.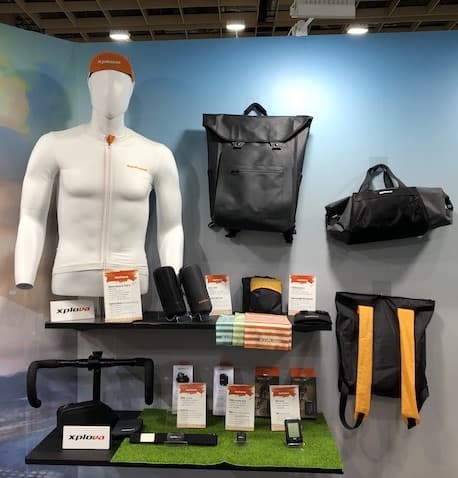 The new range caters to both professional and casual cyclists.
While we're on the subject, Acer is behind at least two other companies at the show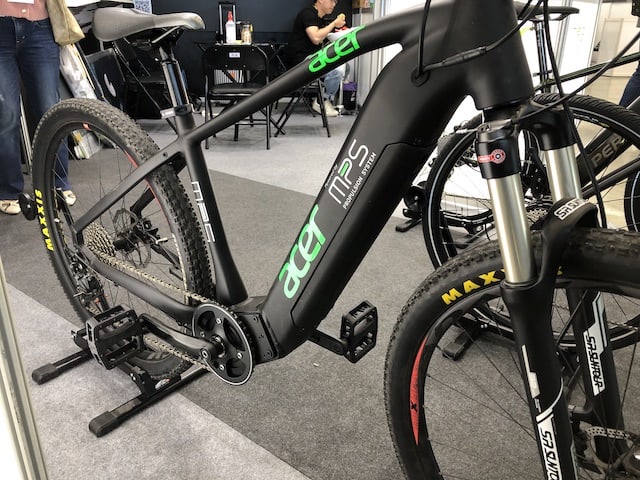 MPS Energy displayed their battery management system.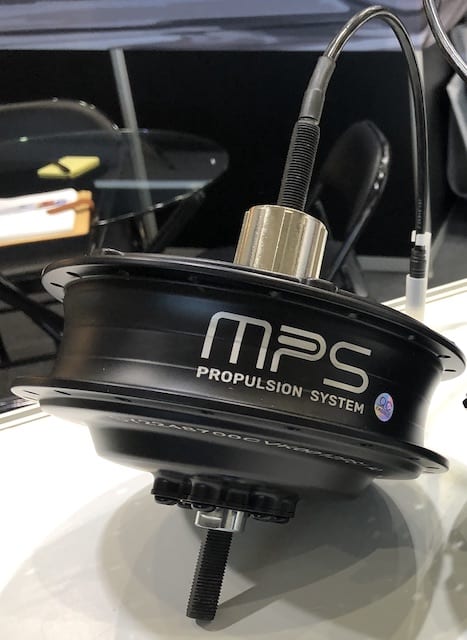 Customers were happy with the batteries but not with having to source the other major component, the motor, from other suppliers. MPS stepped up and supplied their own.
Acer also owns battery maker Darfon whose business model is entirely based on giving customers a one-stop-shop for all e-bike components.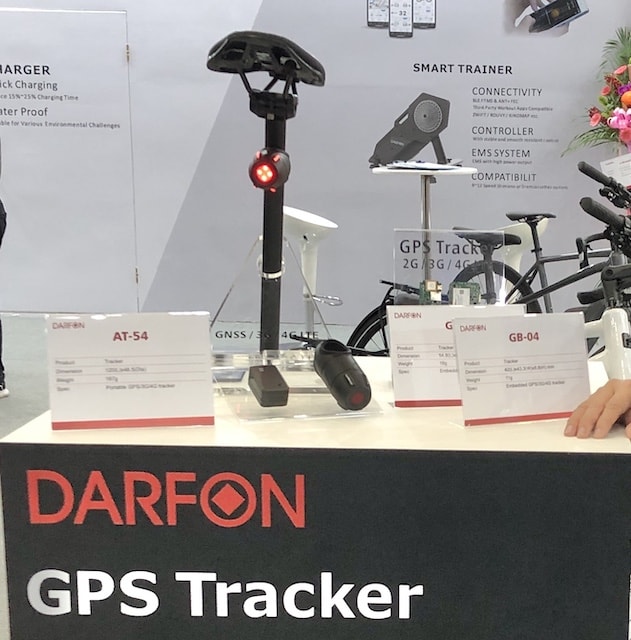 Darfon showcased their new GPS tracker module produced under their Unictron brand.
Gwa Energy — Complete e-Cargo Bike Solution

Well, complete after you supply the cargo bike.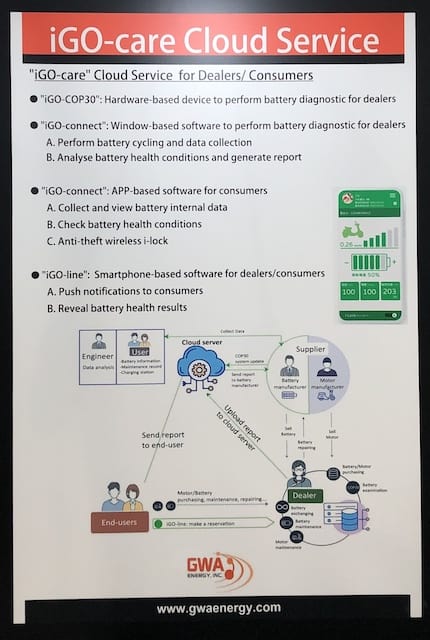 Otherwise, they supply the platform and you do the rest, maybe something along the lines of Keego Mobility (see above).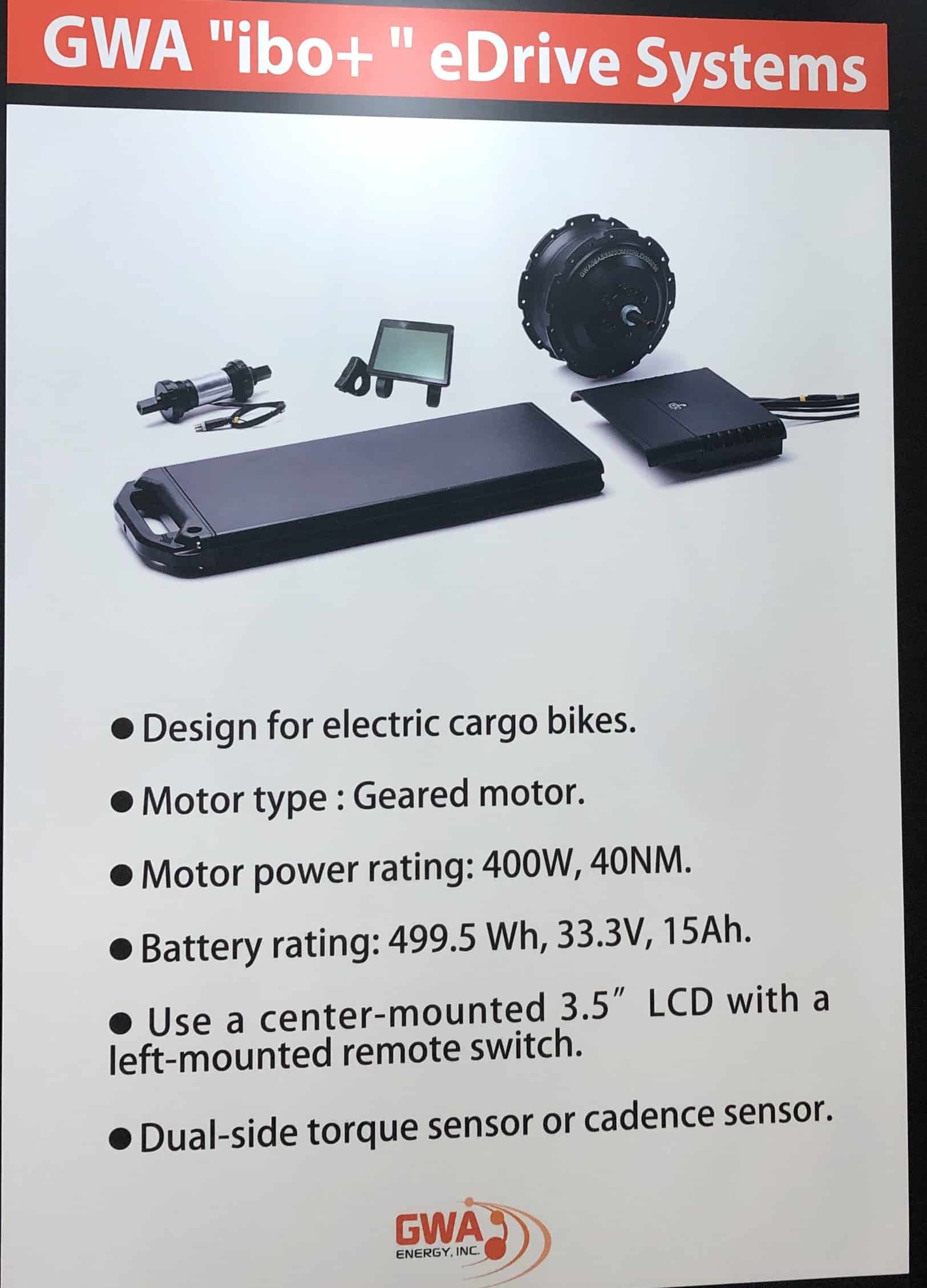 BION Sport

Bion Sport (Bion Inc.) is owned by Direction Technology, a mammoth electrical manufacturer that's been around for decades; this is their first time at Taipei Cycle.
Bion showcased their power meter pedals and GPS computers under the Cycore brand.
Bion has partnered with the pedal manufacturer, Scada International Co. Ltd., to produce the pedals with Bion supplying the electronics.
E-BIKES

Here's a few notable finds from among the e-bike displays.
Inskey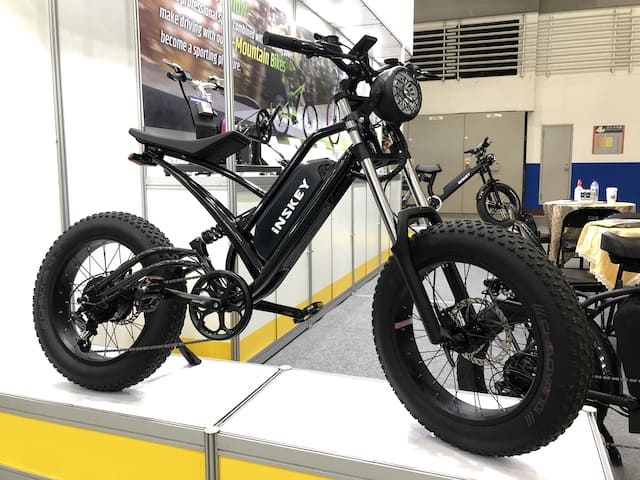 This was interesting viewed in relation to . . .
. . . Jet Bikes

Designed in Taiwan but manufactured in China, these sell well in Taiwan the company rep claimed.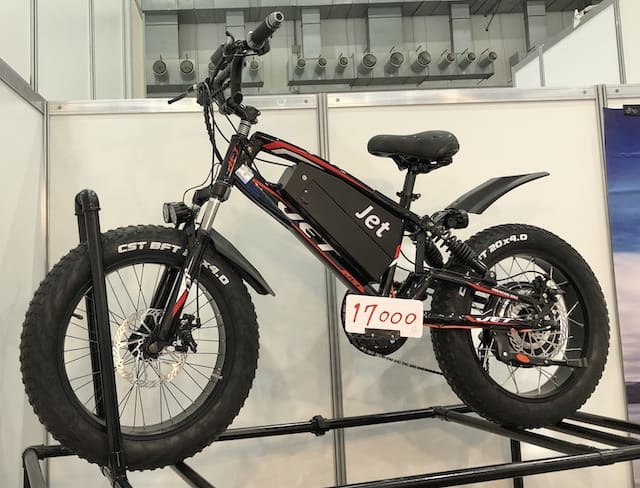 The rep was quite busy with a stream of locals enquiring about this one.
The latest model in the lineup.
Others of interest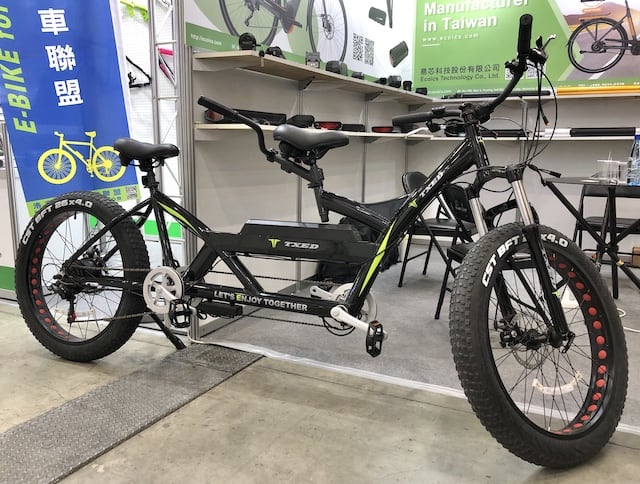 A fat-tire e-tandem—just imagine the possibilities.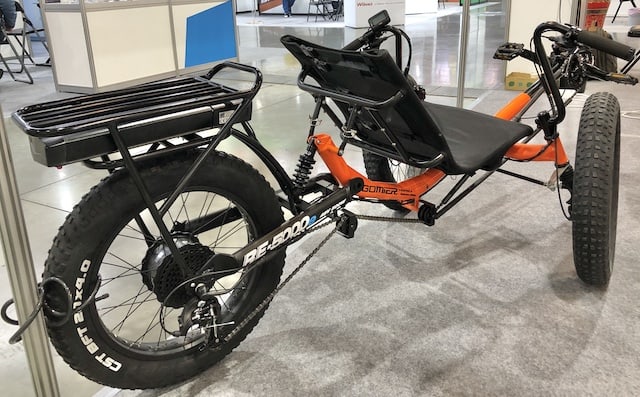 Gomier's fat-tire e-trike: the battery's under the heavy-duty rack.
You could go places on this.
COOL TOOLS

The new tools at each year's Taipei Cycle are not easy to find.
But when you do they'll either puzzle or delight you.
ZENO

Bar end tools with Allen key bits are certainly a trend.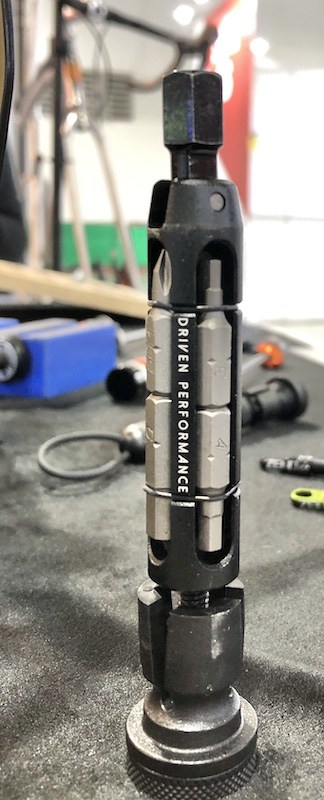 Slip your selected bit into the driver, and you're off to the races.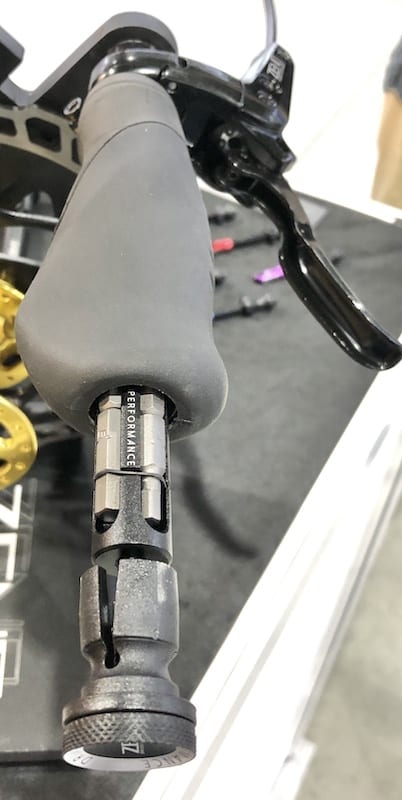 Slide it inside the bar; twist to lock.
Similar to Lezyne's "bicycle tool insert kit", the locking mechanism is the unique feature.
Coloury

Coloury has a history of innovative tool design.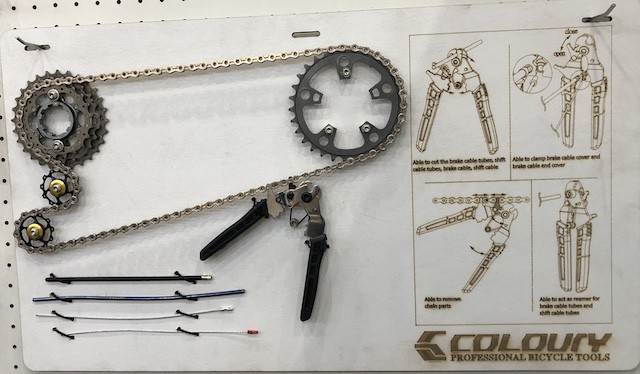 Their new 6-in-1 chain and cable tool does a lot.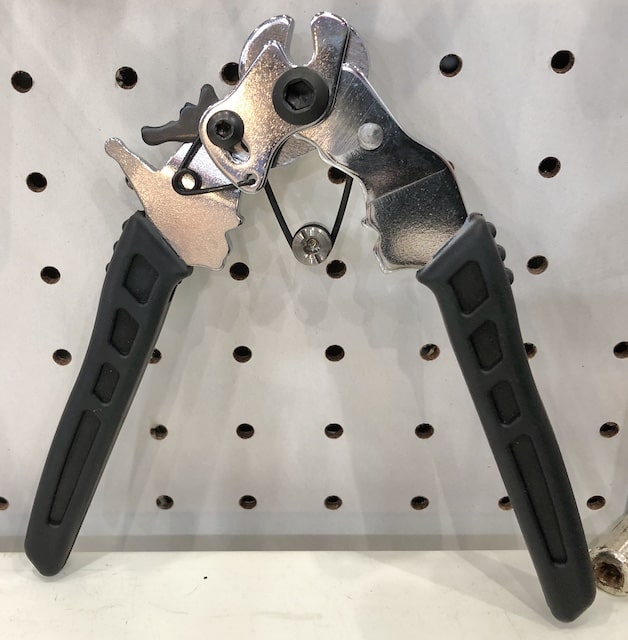 It will close and open a quick release link as well as cut and trim cable and cable housing.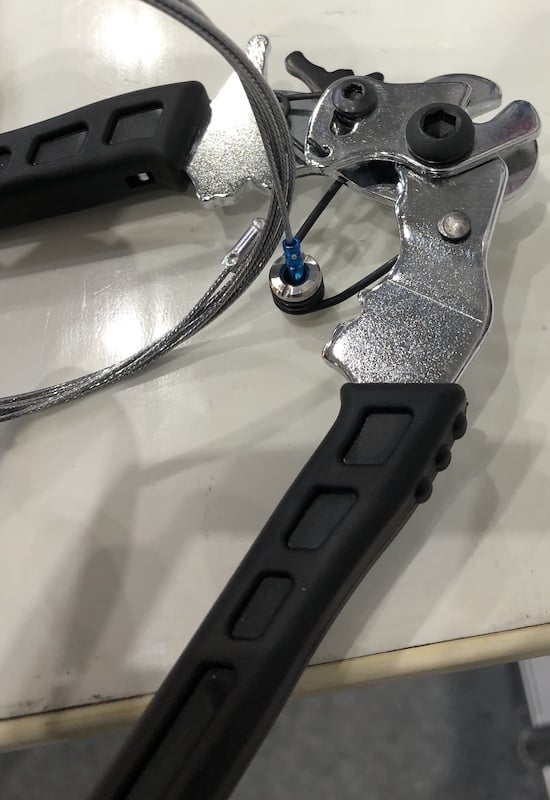 Crimp the cable end cap on one side; on the other a pin replaces the awl you would use to open a section of cable housing after cutting it.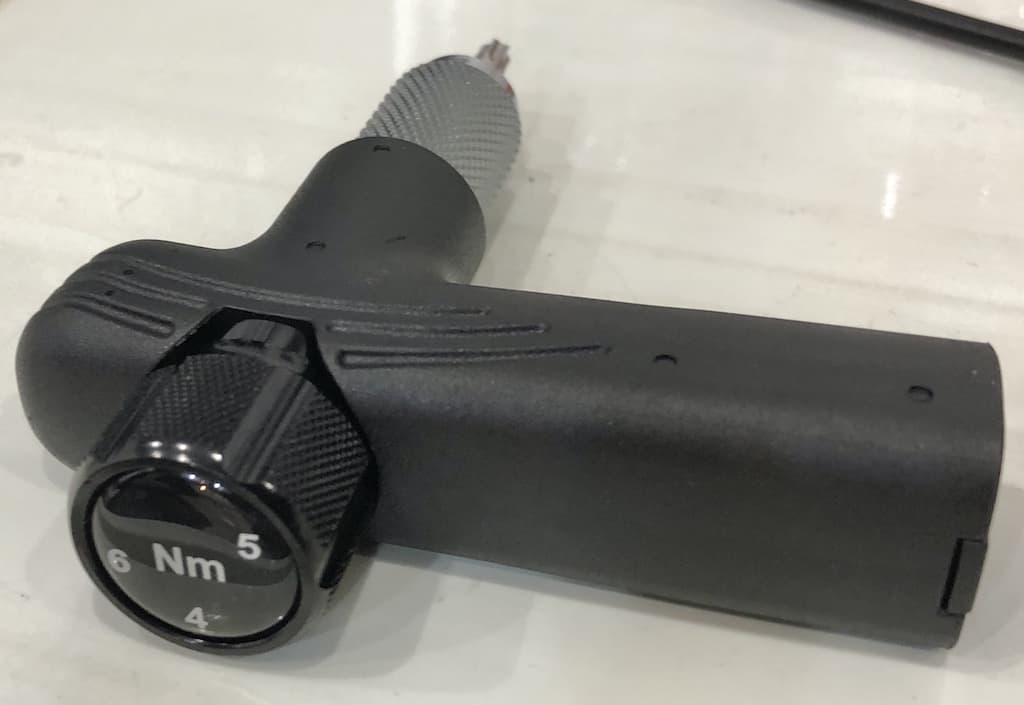 Coloury has also jumped on the portable torque wrench band wagon; this one's got a handle.
Turn the dial to select the torque setting.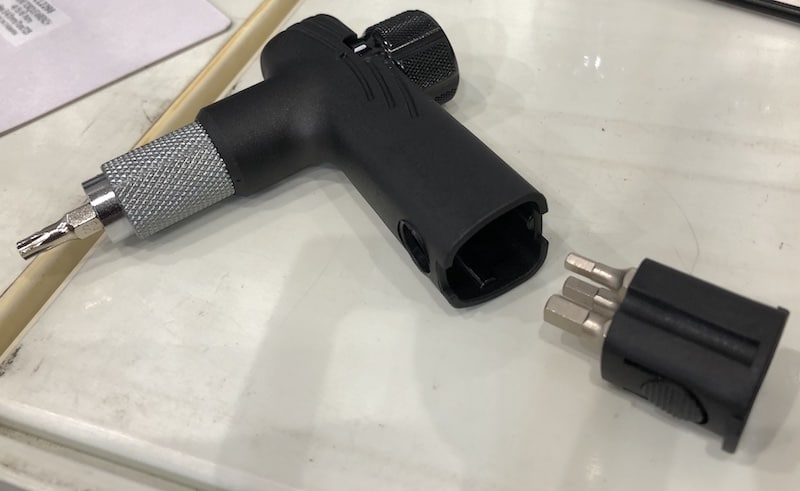 The bits are stored inside the handle.
Bike Hand

The standout at Bike Hand's (tiny) booth this year was their unique combination cable & cable housing cutter / quick link open-close / cable housing opener / cable housing trimmer (and bottle opener…no, kidding on the last one) YC-76KP that bike shop mechanics should love.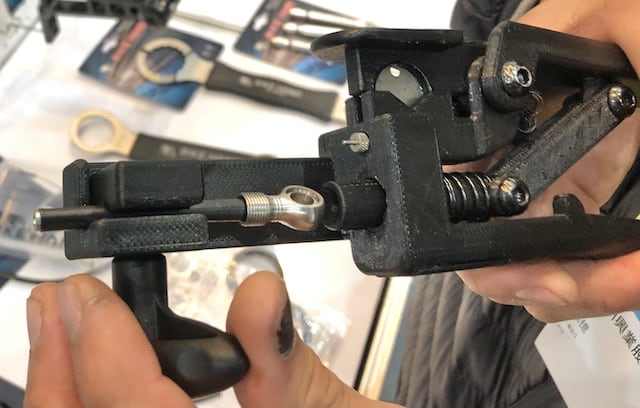 Clamp the cable housing, then press the connectors into place.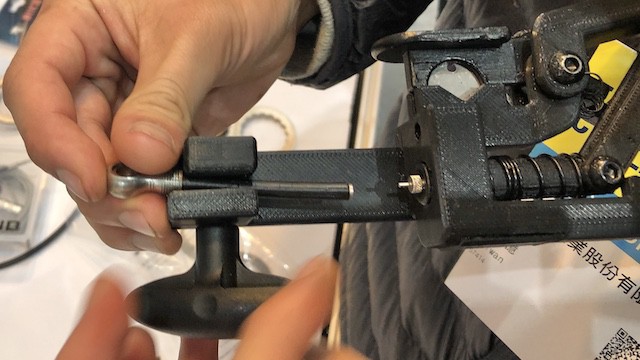 Reverse for the other end.

You can also trim the ends of the cable housings; spare blades are stored inside the unit.
CO2OOL ("see oh tool")

Xbat energy presented their variation on the portable tool theme.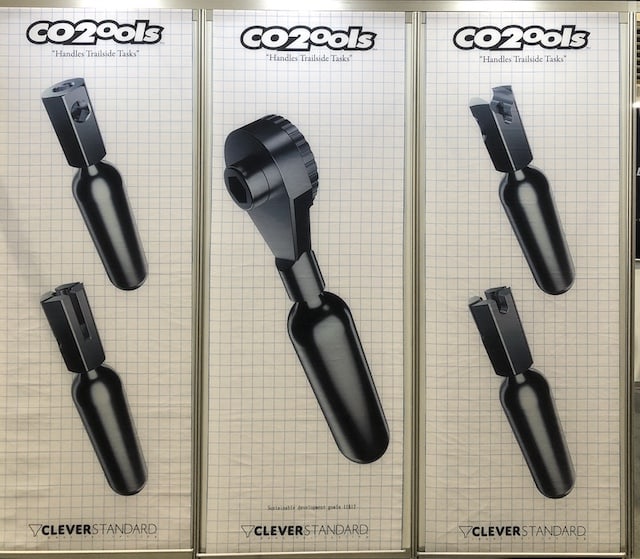 Everyone carries a C02 cartridge or two for tube re-inflation after puncture repairs so why not make use of it?
Such was the thinking of BiBcreative Co. Ltd.'s Tomo Ichikawa, who came up with the idea.
Co2ool's range of bits screw onto the cartridge threads.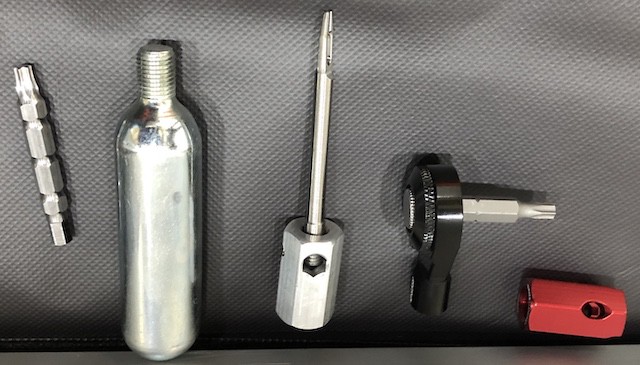 You get a range of drivers to cover a range of emergency bolt loosening or tightening scenarios.

You reduce weight and bulk on a ride since cartridge is the driver handle—the bits stow away and you don't have to worry about where to stash the driver handle.
JCool Torque Wrench

Nifty portable tools define JCool.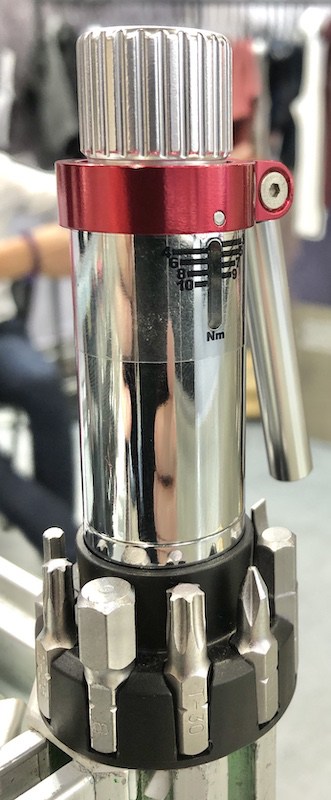 They've added this one to their portable torque wrench range (portable torque wrenches is a crowded market these days).
MAJOR INNOVATIONS—New solid tire technology "Nexell" from Nexo

I was going to include this in the Components & Parts section above.
But Nexo insisted that their new synthetic compound is truly the bees knees. So here it is in its own section.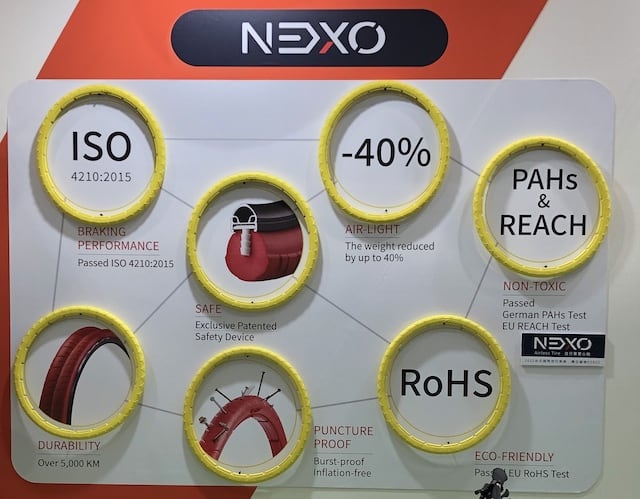 Nexo has offered solid tires for a while now.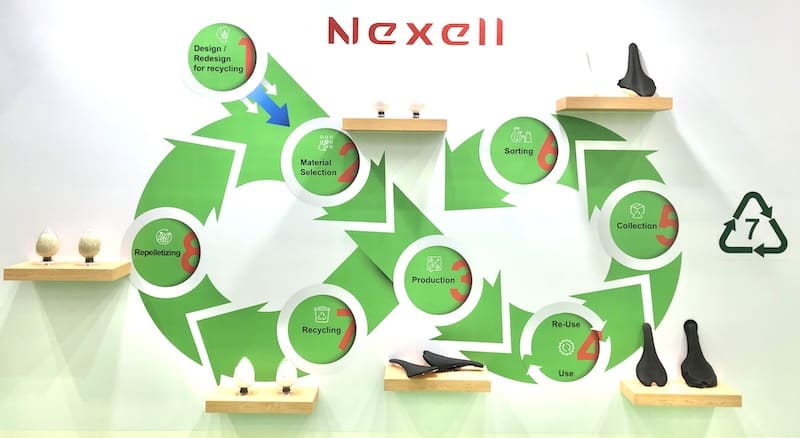 They released a new material and outlined its accompanying manufacturing system at this year's show.
The material is plant-based and 100% recyclable.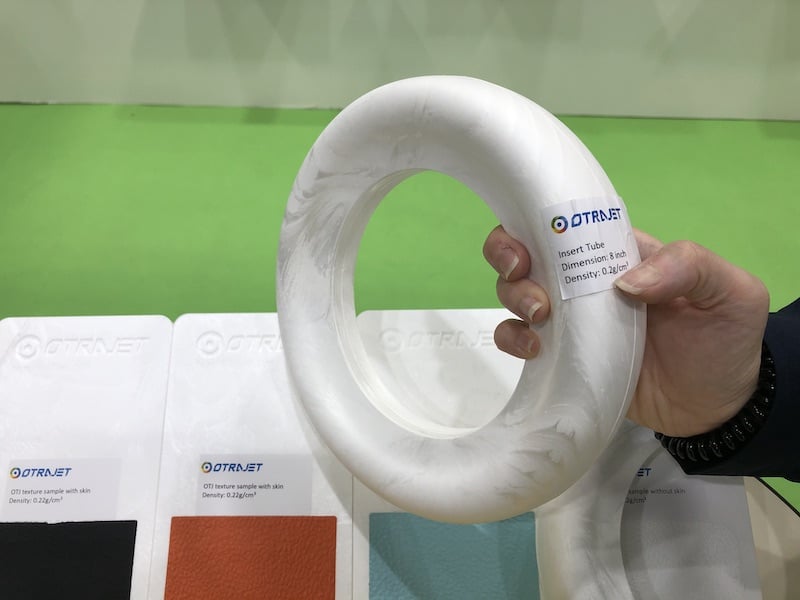 You determine what density of material you require based on the conditions in which the tires will operate.
Although there aremixed opinions on how great solid tires are as a substitute for pneumatic tires, they are an established option.
The manufacturer also views this material as suitable for saddles.
Perhaps we'll be seeing a new generation of saddles made from Nexell's new material in combination with San Fang's Aegiskin in future editions of Taipei Cycle? . . .
San Fang: Translucent Film & Vacuum Forming Skin

San Fang Chemical has been around for almost 50 years.
This year is their first at Taipei Cycle although they have been ready to go with this for a few years now.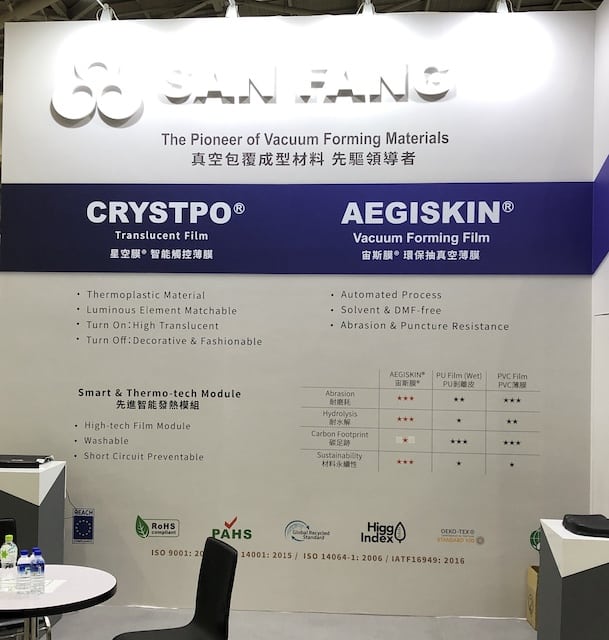 Aegiskin is most appropriate for saddles you'd think; Crystopo could be incorporated into just about anything.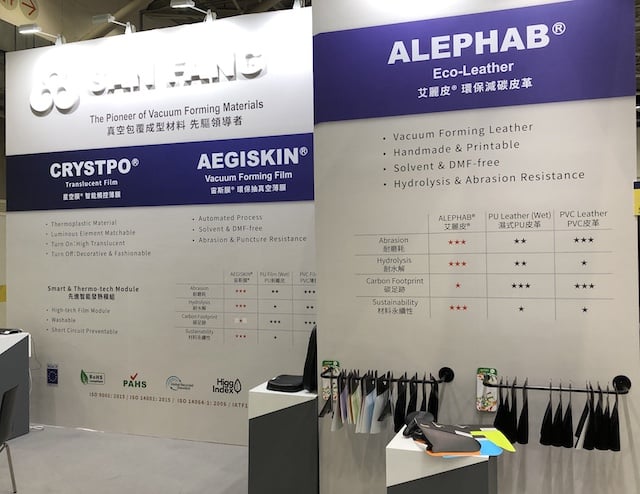 Alephab . . . for upmarket e-city bikes to name one possible application?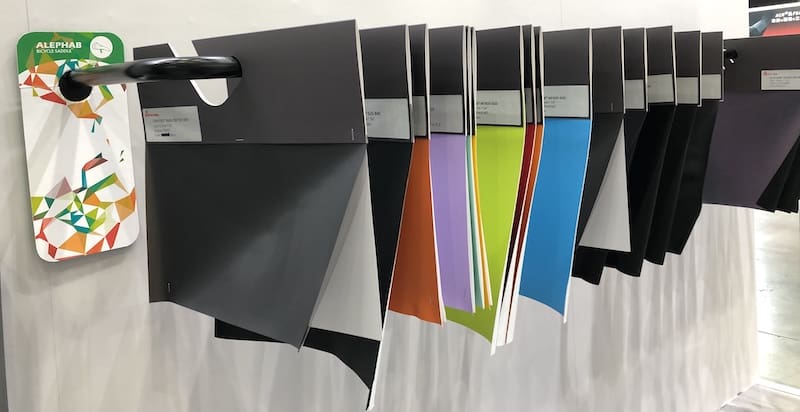 Plenty for creative minds to work with.
OTHER PRODUCT of NOTE

TRU waterproof also debuted at Taipei Cycle this year.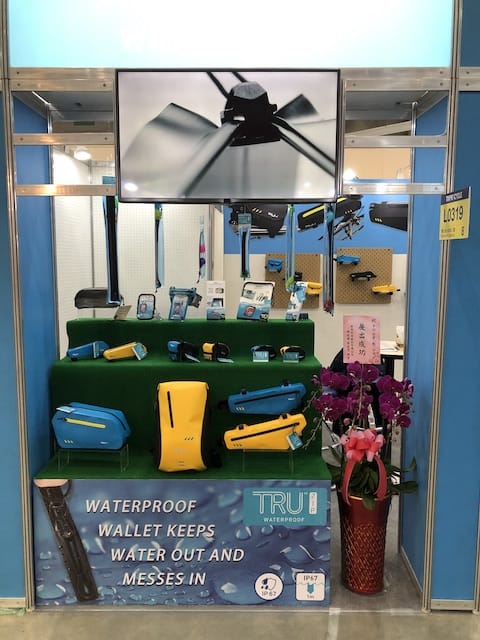 They use the zip under licence; the material is their own.
The company, Ziyu Enterpise, has been around for almost 40 years. After three decades of OEM, in 2017 they took ZIYU to the world.
Zack Yang, son of the founder of the carbon maker, Golfcel Industrial, mentioned his plan to focus on branded products in the future since the margins on OEM are razor thin.
It will be interesting to see how many legacy OEM manufacturers are going down the same path at Taipei Cycle 2023 when the show will be back to normal.
Taipei Cycle 2023

Thanks for clicking to this section which we'll update as information comes to hand, official information as well as INSIDE 😉 information . . .
The next edition of the show will be held in March . . . the dates are still to be announced, let alone any other information.
As soon as the information is available, we'll have it here—EVERYTHING you need to know all in the one place!
FINAL COMMENTS

With a little more than half the industry in attendance, can you say that the range of products on show are representative of where the industry is right now?
Probably yes.
March 2023's Taipei Cycle will be truly one not to miss: expect to see even more development on the high-tech front.